FINNE Architects
Architects & Building Designers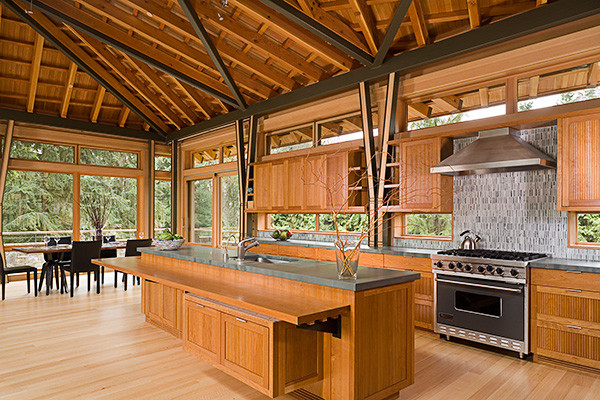 Redmond Residence
The Redmond Residence is located on a wooded hillside property about 20 miles east of Seattle. The 3.5-acre site has a quiet beauty, with large stands of fir and cedar. The house is a delicate structure of wood, steel, and glass perched on a stone plinth of Montana ledgestone. The stone plinth varies in height from 2 feet on the uphill side to 15 ft. on the downhill side. The major elements of the house are a living pavilion and a long bedroom wing, separated by a glass entry space. The living pavilion is a dramatic space framed in steel with a "wood quilt" roof structure. A series of large north-facing
clerestory windows
create a soaring, 20-ft. high space, filled with natural light. The house was completed in late 2006.
The
interior of the house
is highly crafted with many custom-designed fabrications, including complex, laser-cut steel railings, hand-blown glass lighting, bronze sink stands, miniature cherry shingle walls, textured mahogany/glass front door, and unique furniture such as the cherry bed in the master bedroom. The dining area features an 8-ft. long custom bentwood mahogany table with a blued steel base.
The house has many sustainable design features, such as the use of extensive clerestory windows to achieve natural lighting and cross ventilation, low VOC paints,
linoleum flooring
, 2x8 framing to achieve 42% higher insulation than conventional walls, cellulose insulation in lieu of fiberglass batts, radiant heating throughout the house, and natural stone exterior cladding.
What Houzzers are commenting on: