Feinmann, Inc.
Design-Build Firms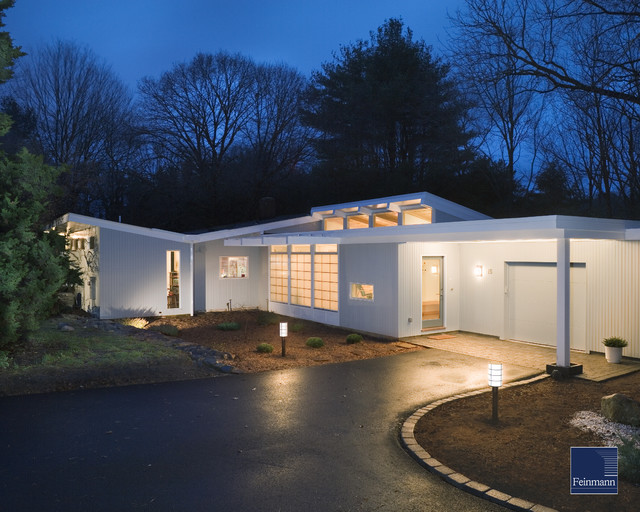 Asian Inspiration
Our client, a professor of Japanese sociology at Harvard, owned a Deck House home with its post and beam construction and 1950's modernist simplicity. She asked Feinmann to design a multi-purpose addition to meet several needs: a functional yet spacious home office, a beautiful entry way into the home, and a serene sitting area.
The client mentioned she has always wanted a Japanese "scholar's study," which is traditionally a contemplative workspace area enclosed by shoji screens. We told her the Japanese minimalism she desired and the clean modernist aesthetic of her existing home could marry quite nicely (the blending of East and West) with some thoughtful interventions.
The challenge then became finding a way to balance these styles. The house is surrounded by many trees, so bringing nature into the home was easily achieved through careful placement of windows throughout the addition. But the design element that brought it all together was the large translucent wall (kalwall) in the main hallway. This unique material allows for diffused natural light to envelop the living spaces. It has the same insulative properties as a typical exterior wall, and therefore is considered to be a great "green" building material. It is also quite versatile, and we were able to customize it to give our accent wall the Japanese feel of a shoji screen.
We reiterated this design element with actual shoji screens to enclose the scholar's study, which also doubles as a guest room.
Post-and-beam
construction was continued from the existing house through the new addition in order to preserve aesthetic continuity.
Homeowner quote:
"I wanted a certain feeling and the Feinmann architect really got it. I had already been through three different architects—one even said that the house was a tear down."
Awards:
• 2007 Gold Prism Award Renovation/Addition Best Remodeling/Restoration under $250K
• 2007 Best of the Best Design Award
Residential Addition
for Best Project under $250K
• 2007 Remodeling Design Merit Award Residential Addition $100 - $250K
• 2007 Regional NARI Award Contractor of the Year: Residential Addition
• 2006 Eastern Mass NARI Award Best Addition over $100K
Photos by John Horner
What Houzz contributors are saying:

Kalwall can also be used in lieu of glass when light as well as privacy is the goal. While Kalwall can be quite opaque during the day, Kalwall can turn a building into a glowing lantern at night.
What Houzzers are commenting on: