Broken Arrow Workshop
Architects & Designers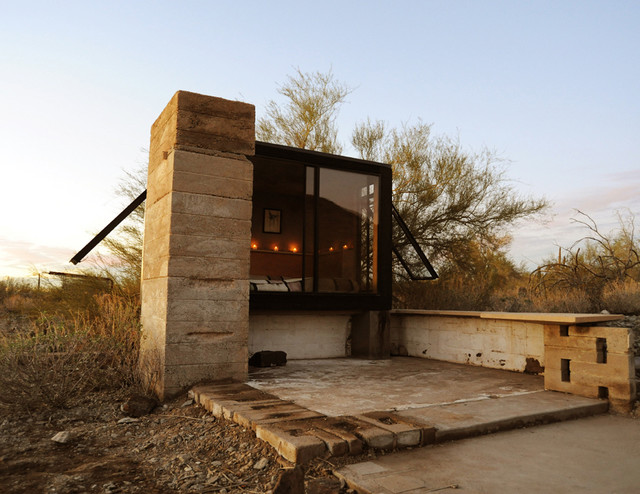 The Miner's Shelter
PROJECT DESIGNER/MANAGER: Dave Frazee
ASSISTANT
PROJECT MANAGER
(S): Robert Jackovich and Christopher Madden Carr
PROJECT TEAM: Dakotah Apostolou, Charles Arundel, Glen Biehle, Thai Blackburn, Ron Boswell, Chelsea Clark, Emil Crystal, Daniel Dillow, Aris Georges, Jeff Graham, Dani Loryn Christi Hill, Russ
Karlstad
, Peter Maestri, Nick Mancusi, Brian Maxwell, Charles McCall, Michael P. Johnson, Gilbert Rey, Bob Sanders, Victor Sidy, Samuel Wharton, Pierre Verbruggen, and Huiee Wong
PHOTOGRAPHY BY: Nathan Rist and Dave Frazee
ARTWORK BY: (Left to Right) Aris Georges, Mackenzie Meitner, and Emil Crystal
What Houzz contributors are saying:

This view makes the shelter appear like a miniature of a house — a thoroughly modern one, but a house indeed. I can see the yard defined by side walls, the large glazed wall capturing views and the solid service core anchoring one side. This interpretation reinforces the school's approach of learning by doing. The
students
learn construction, but they also learn that design skills are relevant at all scales.
What Houzzers are commenting on: