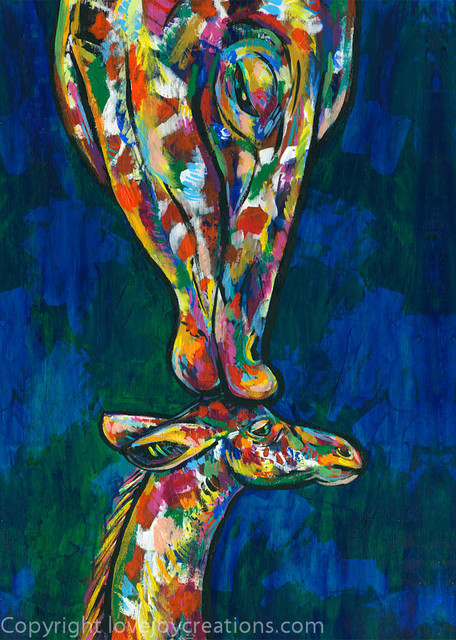 What Houzzers are commenting on:
Mother's Kiss - Animal Families
This series was a really fun series about the bond between family members as they grow and evolve individually and as a unit.
Artwork
- is available in multiple sizes, finishes, and styles. Please visit my store to acquire your version.
http://b-lovejoy.artistwebsites.com/art/all/animal+family+series/all
Want something even more unique and personal? Allow me to create a custom piece of art for you. Pet portrait, special piece to match your color palette/design.
I generally complete custom paintings in 3-6 weeks. Rush orders- 4 days to 2 weeks (extra fee)
Commissions, wholesale and special orders please email lovejoycreations@gmail.com
"I saw the angel in the marble and carved until I set him free" -
Michelangelo
I dont necessarily see the angel in the canvas, rather I feel it. Finding most of my creative flow within the wildlife genera, I developed a way to sculpt, define, &build volume with paint, layer by layer. creating a beautiful play of light and shadow, filled with unexpected colors side by side. It's a dance, a push and pull until the form becomes whole. I find my wildlife subjects to have soulful eyes, and once I become mesmerized, the painting is complete.There is a large zen element in my approach to painting. Each time I step up to my canvas to paint, I step up as I am in the moment, what I painted
yesterday
does not matter. To learn to connect and to flow with what I am painting in the moment, yet to still be able to be objective. Enabling me to push the boundaries of what into is possible with layers, color, texture, brush movement, and size. I find such a sense of peace in my creative pursuits; art is a way of life.
_________________________________________________________________________________
lovejoy, lovejoy creations, joylovemojo, love, art, artist, wildlife, animals, endangered species, endangered animals, save the animals, save the giraffes , giraffe, baby giraffe, mother giraffe, kiss, mother & child, blue,
palette knife
, painting, africa, savanna, herbivores, long neks, unique animals, cute animals, love, cute, cute giraffe, long neck, spots, brown, lines, kid, brother, mother, family, rainbow, amor, nina, ni�o, madre, mamma, interior design, wall decor, made to order, love
Product Specifications
Sold By

Category

Style