deonva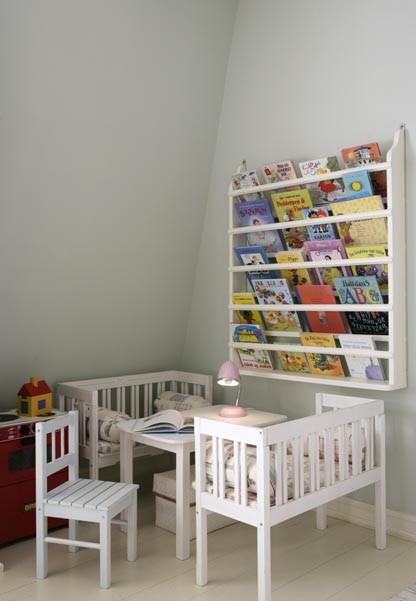 Reading AreaInspiration | Apartment Therapy Ohdeedoh
Reading Area Inspiration We can't stop looking at this photo. How delightful is this small and cozy reading corner? The two small benches with cushions really make the space. They almost look like two halves of a crib. The wall-mounted book display, small desk lamp and storage box underneath the table (a great place for small feet to rest) all work to create a cozy feeling. Our only addition would be to place a
small area rug
underneath. Image: KML Design via Boo and the Boy Comments (2) I wonder if those chairs are comfy? posted by Lizzykewl on March 18th 2010 at 2:04pm view Lizzykewl's profile Very cute! posted by peculiarchick on March 18th 2010 at 2:31pm view peculiarchick's profile Post a comment Our privacy policy has recently changed. Please review our policies and terms and check the box to continue. I have read and agree to Apartment Therapy's Privacy Policy , Terms of Use and Infringement Policy . Comment are allowed. URLs will be converted to links, and line breaks are automatic. Please be aware of our comment policy . Seeing spam? Let us know . Name (required) Email (required) Website URL Please log in to comment Username Password Reset Password Enter the email address you used to register and we will email you a new password. Email Register for Comments Please complete all the required fields Please be sure your passwords match Usernames can only contain letters and numbers Username * Your username should only contain letters and numbers. Screen Name Screen Names will be displayed along with your comments. Can contain any character. Email * A valid email address is required. Your activation email will be sent to this address. Password * Verify Password * Your password must be at least 6 characters. Email Signup Apartment Therapy daily ( sample ) The Kitchn weekly ( sample ) We do not sell or rent these lists. Terms & Policies * I have read and agree to Apartment Therapy's Comment Policy , Privacy Policy , Terms of Use and Infringement P
This photo has 2 questions
What Houzz contributors are saying:

No, this isn't a kitchen. But wouldn't this type of rack work well in one?

Displaying children's books on a shelf like this not only keeps them off the floor, it highlights the lovely covers. Plus, younger children are more apt to read when they can pick from their favorites easily.

Save floor space and make kids' books easy to find with a mounted magazine rack.P.S. This would also work for magazines and newspapers (remember those?).
What Houzzers are commenting on: