Florence Dept. of Arts & Museums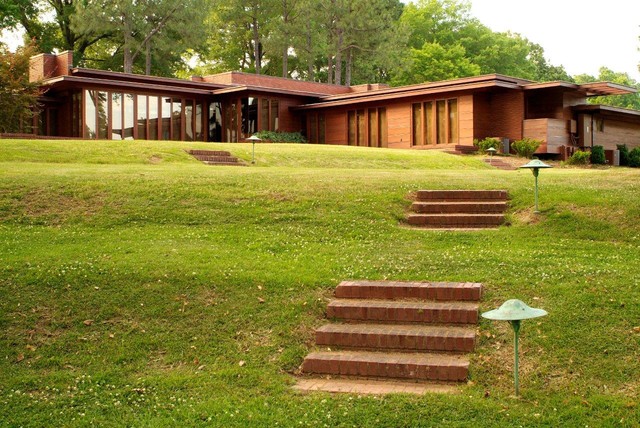 Rosenbaum House
Florence Dept. of Arts & Museums, photos by Patrick Hood
What Houzz contributors are saying:

The back of the house faces southwest and has an extensive amount of glass with deep roof overhangs to block Alabama's summer sun. The two legs of the L-shaped plan form a patio where the family would have enjoyed outside living.The main living areas of the house are at the left of this photo, where there is a wall of glass doors, while the bedrooms are at the right. A "floating" balcony is evident at the right, just off the master bedroom.It's clear from this vantage point that the house reaches out and embraces its gently sloping site.

One of the architects who strongly embraced passive solar heating (as well as sensible heating through radiant floors, but that's another story) is Frank Lloyd Wright, especially with the Usonian houses he started in the mid-1930s. Shown here is the restored Rosenbaum House in Alabama, specifically the back of the house, whose large glass walls face south and west.As mentioned in an ideabook on Anthony Denzer's book The Solar House, architects have been developing ways of harnessing the sun's energy to heat houses without the need for solar panels and other mechanical devices. Wright is but one early proponent of an approach that continues to this day.
What Houzzers are commenting on: