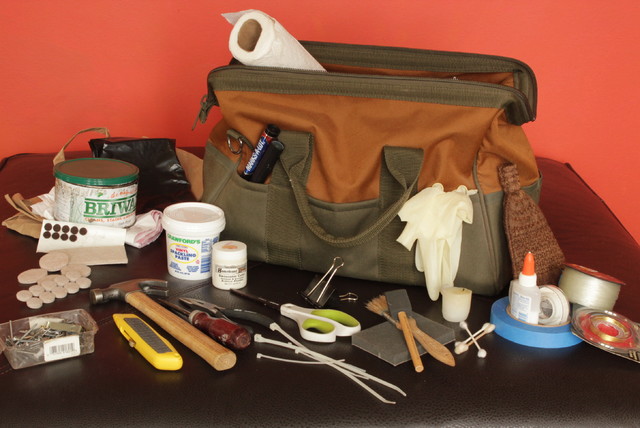 Virginia Burney's Designer Secrets!
Hopefully your kit will include the following:
1. small whisk
broom
2 .good
scissors
3. hand
pruner
4. utility knife
5, medium size hammer
6. phillips head and a standard screw driver
7. pliers, needle nose and regular
8. assorted
picture hooks
and nails
9. felts of all sizes
10. zip ties, rubber bands
11. throw away rubber
gloves
12. paper towels
13. foam sanding sponges, fine, medium and course
14. foam paint brush, small and med.
15. cheap bristle paint brush, small and med.
16. Q-tips
17. Blue painters tape (does not stick or leave residue)
18. Scotch tape
19. small gauge wire
20. fishing line, 30 lb.
21. garbage bag, black and white
22. small can of spackle and small spackle knife
23. two permanent broad tip markers, black and brown to help repair scratches and dents
24. clear candle or parafin to "wax" top of drapery rods, closet rods or tight drawer glides.
25. paint scraper, new blades
26. Briwax in clear, light brown or dark brown
27. extension cords in utility orange or house brown
28.
note pad
and pencil for that HUGE list of chores that you need to do next.
29. small garden pruner
30. fire starter
31. small drapery weights or fish weights and safety pins
32. Quake Proof and Museum Wax
Product Specifications
Sold By

Category