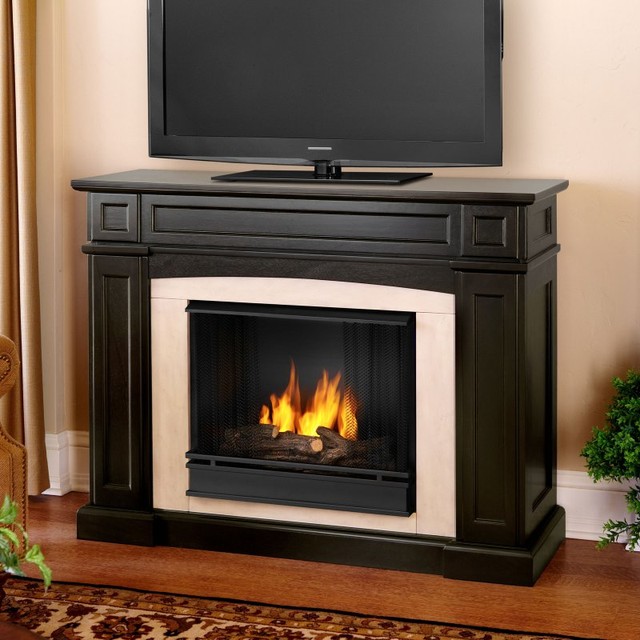 What Houzzers are commenting on:
Real Flame Rutherford Ventless Gel Fireplace - Dark Walnut Brown - 3710-DW
Shop for Fire Places Wood Stoves and Hardware from Hayneedle.com! The family will love gathering around the Real Flame Rutherford Ventless Gel Fireplace - Dark Walnut to bask in the warm glow and enjoy entertainment on your home television! Its prominent profile detailed recesses and arched center panel make it a handsome addition to the decor and a stunning alternative to modern entertainment centers. Expertly crafted from solid wood and MDF veneer the Rutherford fireplace will make a lasting statement in your home that also features hidden storage space for organizing all your media. The Rutherford fireplace also gives your space an inviting ambient light and soothing heat. By using clean burning gel fuel this state of the art fireplace is capable of emitting up to 9 000 BTUs for as long as three hours. Only Real Flame 13 oz. Gel will do of course and the fireplace also comes with a screen kit and hand-painted concrete logs for added decoration. Measures 46.5W x 16D x 37.5H inches. An identical model with dark mahogany finish is also available. About Real FlameReal Flame is the original premium gel fuel designed for use with ventless gel
fireplaces
and accessories. For more than 25 years Real Flame has been the leading alcohol-based gel fuel on the market. Real Flame gel is an environmentally friendly non-toxic clean-burning gel that doesn't leave any soot smoke or ashes behind - so there's no messy cleanup. Best of all Real Flame creates a robust bright yellow orange and red flame that crackles just like a log fire. Made in the U.S.A.Real Flame is made from pure premium-grade isopropyl alcohol and thickeners to enhance stability. Real Flame is the safest most viscous (thick) gel fuel available on the market. It is not liquid and will not break down separate or liquefy as quickly as other brands. To maintain the integrity and stability of Real Flame all Real Flame gel cans are specially treated to prevent rusting on the inside. Environmentally FriendlyReal Flame is a safe clean-burning gel that is regularly tested by numerous independent labs. Air-quality results while burning Real Flame gel fuel fall well below the standards established by the Occupational Safety and Health Administration (O.S.H.A.) and the Environmental Protection Agency (E.P.A.). Each batch of Real Flame gel fuel production is closely monitored to ensure the highest quality. EfficiencyEach can of Real Flame gel fuel is designed to burn for up to 2.5 to 3 hours. If you wish to create a fire for a shorter period simply extinguish the flame and re-cap the can. Reuse any remaining gel fuel for your next fire. For each fire you may use one to three cans of gel fuel at a time depending on the size of fire you wish to create. When compared to cartridge-style cans one can of Real Flame gel fuel is available at a fraction of the cost. Growing PopularityMillions of consumers can't be wrong. Loyal customers have made Real Flame the leading gel fuel on market today. Don't be fooled by unscientific consumer polls. Real Flame is the original and best-selling gel fuel available and has been on the market the longest. Never settle for any other gel fuel in your Real Flame fireplace or accessories.
Product Specifications
Category

Style