Benjamin Vogt / Monarch Gardens
Landscape Architects & Designers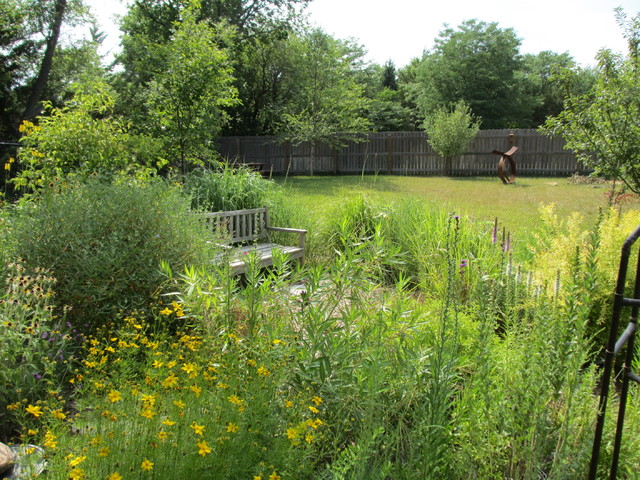 Three Ways Native Plants Make Gardening Better
This photo has one question
What Houzz contributors are saying:

3. Healthy space for family. A native plant garden means you won't likely have to fertilize or spray, which means a space welcoming to sensitive insects who, through pollination, are responsible for one in three bites of food we take. Without insects we would exist in far fewer numbers. But a chemical-free landscape is also safe for kids and pets. A recent USDA study tested 1,000 people for 20 common pesticides and found that the test subjects had an average of 13 pesticides in their system. These pesticides come from the food we eat and the environments we walk in and, in turn, bring into the house. Using native plants can mitigate and often negate the need for sprays in the landscape, and you're helping create a wildlife refuge out back.

What is beautiful in nature can be quite subjective. A person's idea of beauty in the desert Southwest surely is much different than someone's idea in New England. Of course that's OK, but I bet those ideas of beauty are based on regional, native, wild habitats, and of personal experiences living in those places that define cultural and personal ideals. It doesn't matter whose idea is "better" or "right," only that those beliefs lead to healthy people, plants and wildlife. All gardeners have choices that lead to the well-being of all life under our care, including our own. Prairie, forest, desert, marsh — it's all relative. In the photo here, do you wish to be in the lawn, or the garden? Or is the juxtaposition of the two somehow enticing? Which is more in tune with its region, and in turn, gets us in tune with our home ground?

1. Garden by region, not zone. Gardening for wildlife almost invariably means gardening with native plants, because insects and other wildlife have coevolved with leaves, flower bloom times and berry production times. So why not garden by zone? Because many of the zones stretch across the entire country — that's a very long way. A plant native to Nevada isn't likely to be native to South Carolina. Always garden by region, and even better, by city.Get ideas for gardening where your live in the Houzz regional garden guides
What Houzzers are commenting on: