Landscape d.o.o. Slovenia
Landscape Architects & Designers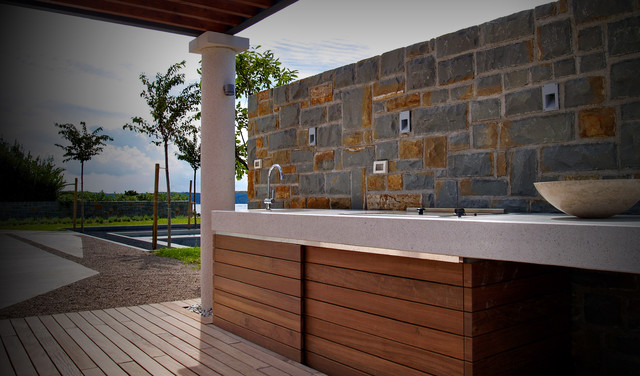 Aromatic mediterranean garden
location . Slovenian coast
size . 1930 m2
planning . 2006
completed . 2008
A walk through the garden by coastal villa high above the Slovenian coastline reminds one of undulating waves, the flow of sea currents and the wind. We float through a space of Mediterranean aromas and observe various motifs- abstractions of flora and fauna, which are typical of the Mediterranean. The redesigned relief of the space runs from the highest points – hillocks, lush with aromatic flowers and pine trees, which provide the garden with intimacy, to the lowest point, a graded amphitheatre buried in a crowd of
cherry trees
. The use of traditional materials and autochthonous vegetation – lavender, rosemary, thyme, olive and cherry trees – creates an impression that the garden has been there since days of old. The symmetry of garden fixtures, classical details of the pregola and the square amphitheatre go even further to emphasise a state of timelesness. The garden is sown with low vegetation, which ensures that its primary function is served, namely providing a view of the sea, flocks of birds and the wind.
At the panoramic point facing the sea is a terrace with a summer kitchen, dining area and line pergola. The summer kitchen is a stone 'mensa', reminiscent of an antique Roman table or monolith
altar
slab. It reshapes the kitchen into a shrine of food, a space where water, a valuable and rare commodity in the Mediterranean, flows freely.
This aromatic garden makes us feel like a sail obsorbing the aromas of the low-lying
shrubbery
while rolling in the wind. From here to eternity we are separated by but a single inability, that is to fly high above the waves of the sea, where the seagulls call home.
Photo credit: Landscape d.o.o. Slovenia
What Houzzers are commenting on: