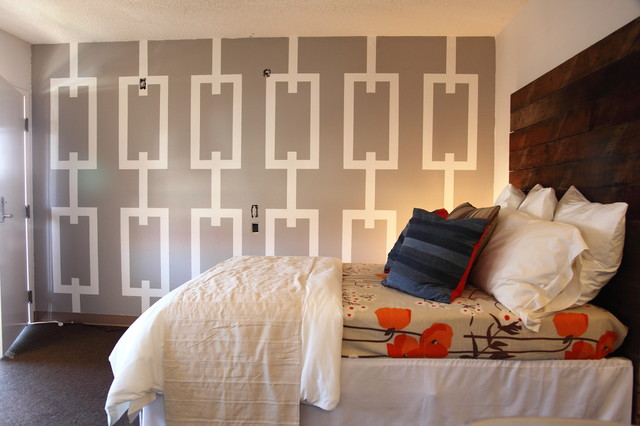 The Upward Bound House by Nadia Geller
This photo has 7 questions
What Houzz contributors are saying:

1. If you can't afford it, do it yourself. Can't afford wallpaper? Here the wall was painted in a striking graphic pattern. No expensive wallpaper needed!

An extra set of bed sheets. Want to give your bedroom an eclectic feel without too much effort? Buy an additional sheet set and mix the two. Pair textured white pillowcases with a patterned sheet or mix up two sheet sets in complementary colors. Have some fun with it.

What makes a high-quality paint?For those who have used both high-quality and less expensive paints, the difference between the two is clear. "Some cheaper paints look chalky or more plastic-like," says Storey. "Also, how the paint feels, or the 'hand' of the paint, can make a big difference aesthetically." More expensive paints can be easier to apply, hide imperfections better, last longer, have more vibrant colors and make washing easier — all due to the higher-quality ingredients in each batch. If you're looking for a single type of paint that's "the best," it depends on what you're looking for. The Paint Quality Institute evaluates paint on different qualities according to brand. Some brands are better at hiding flaws, some on flow and leveling, and others on adhesion. Each brand has its own unique balance of characteristics. If you want to play it safe, choose the top-quality item from the brand you're interested in.Still hesitant about spending the extra cash? Buy samples of several different types of paint and see if you can tell the difference. "While a gallon of Fine Paints of Europe paint might cost you $40 per gallon, the coverage will be superior, and you may be able to cover the surface in fewer coats and stretch the time between costly future repaints," says Storey.Buying a good paint won't solve all your problems, though. "A good paint job is only as good as the preparation," says painter Alex Davison. "That tends to be approximately 60 percent of the work. A quick prep with the best paint won't last."
What Houzzers are commenting on: