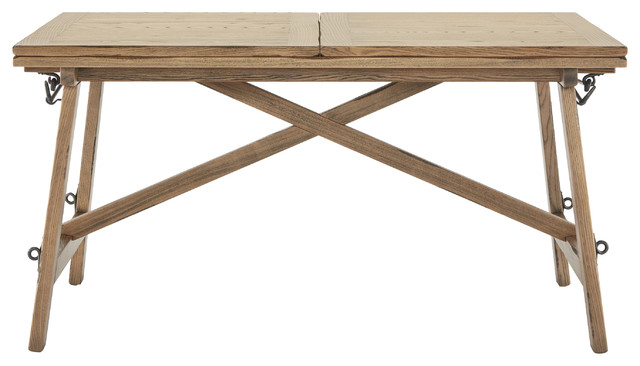 In the hills of Florence, we were hunting for antiques and decided it was time to stop for a bite to eat. Because the restaurant had an open kitchen, we could see everything; and while the food looked impressive, what really stole the show was the table the bakers were using. The leaves were extended to provide a large surface; but when the baking was done, they could be folded back to make a perfectly sized kitchen table. Inspired by that antique, but adjusted to current trends, our Pastry table has the same versatility and charm. The simple X-shaped base is complemented by iron hardware. And this table's warm brown tone is reminiscent of the crusts of all the fabulous breads you might decide to make on it.
The top is 2mil Ash veneer adhered to engineered hardwood. This is a smart strategy to help eliminate the chance for warping over time. The 2mil veneer is thick enough that it can be distressed, so edges are softened for a time worn look. The legs are
solid ash
.
Hand forged iron arms are the support system for the leaves. Simply open the table and move the iron supports to the iron eye to for securing the leaves.
Beautiful butterfly hinges offer style and functionality, allowing he table to open and close easily.
The Pastry table is then lacquer-coated for protection and to create a subtle sheen.
Seats up to 6 chairs (10 chairs opened).
Arhaus Furniture