Alex Amend Photography
Photographers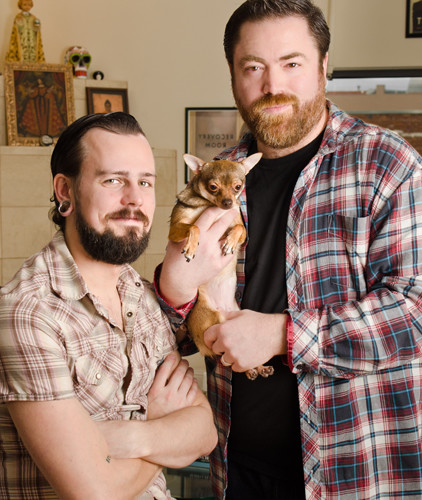 Owner Portrait
Alex Amend © 2012 Houzz
This photo has one question
What Houzz contributors are saying:

From left to right: Johnny, Begonia, and Jason at home.More:My Houzz: Modern Loft Living in ChicagoMy Houzz: Eclectic Vancouver LoftHouzz Tour: Geometry and Art in Chelsea

Blow it up. Oversize black and white photographs of popular landmarks create a stunning focal point that says two things: You're creative and you're well traveled. "I love Paris and Rome and almost moved to Paris before deciding on San Francisco," says Jason Galloway, shown here on the right. "It may be better to be in love with Paris than live there, I suspect." Regarding the mural, he says, "I think it really defines our space. The Eiffel Tower steel beams amidst trees and old buildings is exactly my style."Welcome to hipsterdom.See more: My Houzz: Comfortably Modern in San Francisco
What Houzzers are commenting on:

Lets grow out our facial hair, I am tired of plucking.