kachang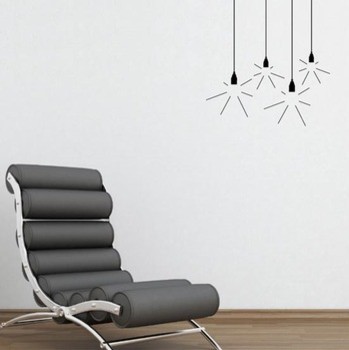 No Light No Bulb Wall Stickers (3 colors!)
877.663.2224 | my account | assistance | shopping cart: 0 items SHOP BY STYLE AS SEEN ON THE TODAY SHOW wall murals and stencils comical wall stickers modern wall stickers restickable wall stickers kids wall stickers animal wall stickers nature wall stickers nursery wall decals plants and flower wall stickers
retro nintendo
& cartoon wall stickers whimsical wall stickers chalkboard wall stickers abstract wall stickers decorative wall stickers retro wall stickers transportation wall stickers borders & dots wall stickers thought bubble wall stickers abcs & 123s Wall Stickers college sports wall stickers modern mobiles clocks & fun stuff! bestselling wall stickers SHOP BY COLOR Select: black blue brown green orange gray pink purple red white yellow Join Us on Twitter! Home : Style : abstract wall stickers No Light No Bulb Wall Stickers (3 colors!) Manufacturer: Surface Graphics $42.00 USD Details SKU: SG-ST-40 Options Style Options black red white Quantity 1 2 3 4 5 6 7 8 9 10 11 12 13 14 15 16 17 18 19 20 21 22 23 24 25 26 27 28 29 30 31 32 33 34 35 36 37 38 39 40 41 42 43 44 45 46 47 48 49 50 51 52 53 54 55 56 57 58 59 60 61 62 63 64 65 66 67 68 69 70 71 72 73 74 75 76 77 78 79 80 81 82 83 84 85 86 87 88 89 90 91 92 93 94 95 96 97 98 99 Share this product: Sleek, simple and timeless, the No Light wall decal is a sophisticated design that fits into just about any room. Inspired by mid century design the No Light wall decal can sit as a subtle addition to a room or pop out as a centerpiece depending on placement. Ian Altares is a young and energetic designer with a passion for making people smile through design. Ian studied industrial design at Philadelphia University and even in his graphics design work draws great inspiration from the world of products. Ship Status: IN STOCK!!! Designer: Ian Altares other popular picks... Why Shop wallstickershop.com? At WallStickerShop if you are not happy we are not happy. WallStickerShop offers free shipping on items over $100 dol
What Houzz contributors are saying:

The lighting decals that you use don't have to be chandeliers. These
modern lights
would look great as wall art in an office or reading space.

You know that handsome decorator fella Nate, who hangs out with Oprah? Well, on his new series, the dapper dude toured a Nickelodeon star's set and touched on its use of this particular decal. Here it's used in a grownup's modern,
minimalist space
; however, as Nate's segment demostrated, it's great for a teen's room. So, for all you parents out there, keep vinyl decals like this in mind come hand-me-down time. Reduce, reuse, recycle y'all.
What Houzzers are commenting on: