Venetian Stairs
Ironwork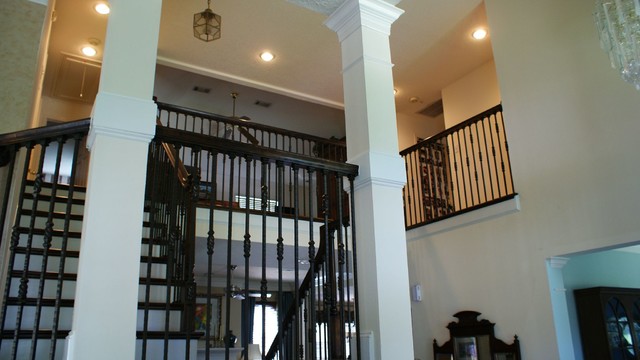 The Johnson Residence 1
This project was a complete stairway remodel with all new Maple hand railing, Maple treads, and Solid
wood risers
and skirt boards.
This Staircase features a 6210 Style handrail with "OVER THE POST" style handrail. Which eliminates the ball or mushroom at the top of the newel and gives them a smooth handrail over the
newel posts
.
This stairs also features a Hard
Maple Floor
Landing sanded and stained to match the treads. It also features our PC19/1/DC & PC19/2/DC and PC18/3/DC in Dark Champagne Color. we also did subtle trim changes at the columns and baseboards on the landings and balconies to make a cohesive look.