robert kelly
Architects & Designers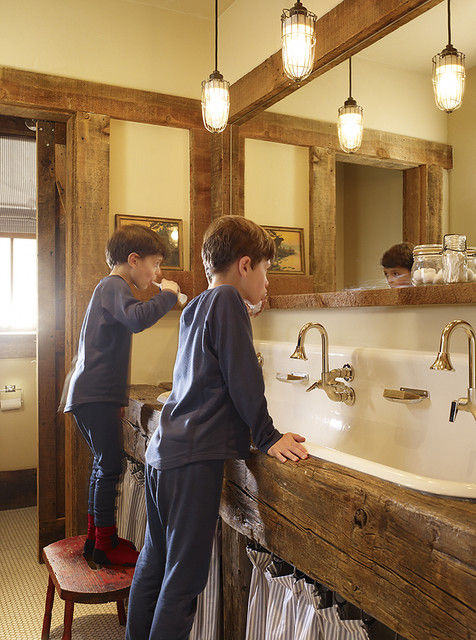 Ski Barn
This photo has 11 questions
What Houzz contributors are saying:

Soften with fabrics. Run a simple café curtain instead of cabinet doors to cover up necessities without taking away from the ruggedness of a timber vanity.

If you have children and would like to have wood without worries about damage, why not go for wood that already has plenty of "damage" already? Reclaimed wood like this large piece of timber already has gouges, spots, marks and stains, so new ones are of little consequence. But there is another great idea in this photo. The sink is positively enormous, allowing up to three children to wash up at the same time. The back of the sink forms a seamless backsplash, with soap dishes attached. Such a large sink keeps splashes contained, and the placement of the soap completely within the sink means no dripping on the counter as you reach back and forth between faucet and soap.Architect Rob Kelley of Piedmont, California, who designed this bathroom, uses different finishes depending on the client's desired level of maintenance. For this client, he used a beeswax, lemon oil and mineral oil combination from Natchez Solutions. This type of finish resists water quite well, although you do need to dry the counter rather than let water stand to avoid any spots. But here, the look of the rustic, reclaimed timber and the big sink minimizes this concern. The species of wood also makes a big difference, Kelley says. He said that redwood, yellow cedar, mahogany, white oak and teak are all naturally more resistant to water, and these are readily available on the West Coast of the U.S., where he works.

Since chances are that there will be only one bathroom, make it large enough for multiple children to use it at once. Just make sure to place the toilet in a separate water
closet
so that some can be brushing their teeth while others are taking a shower or using the toilet.
What Houzzers are commenting on: