Chimney King, LLC
Fireplaces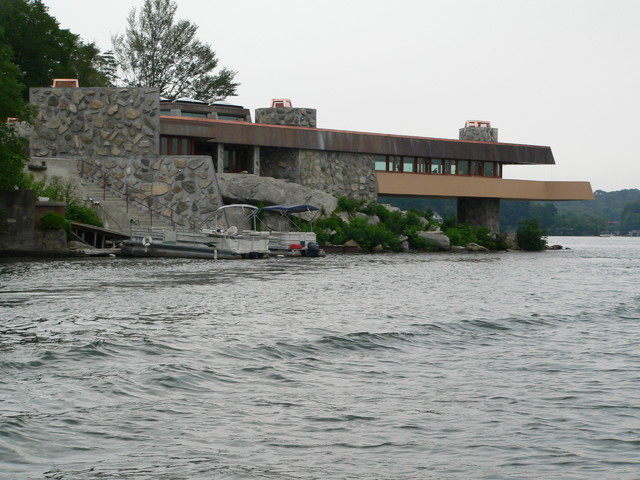 Joe Massaro Home
Massaro House is a U.S. residence inspired by designs of a never-constructed project conceived by the architect
Frank Lloyd Wright
. It is located on the privately owned Petre Island (sometimes spelled Petra Island) in Lake Mahopac, New York, and is named for its owner, Joseph Massaro
In 1949, Wright received a commission from an engineer named A. K. Chahroudi to build a house on the 10-acre Petre Island, which Chahroudi owned. Chahroudi would later state that during a lunch meeting he had with Wright and Edgar Kaufmann, the owner of Wright's celebrated Fallingwater, the architect told Kaufmann: "When I finish the house on the island, it will surpass your Fallingwater"
Wright worked on designing a one-story, 5,000-square-foot house for three months, but the project was cancelled when Chahroudi realized he was not able to afford the $50,000 budget that Wright envisioned for the project, nor a second more modest version requested of Wright. Instead, Wright designed a 1,200-square-foot cottage for Chahroudi for the island.
In 1996, Petre Island was purchased for $700,000 by Joseph Massaro, a sheet metal contractor.Though he had seen the original Wright drawings for the main home years earlier, he initially intended merely to restore the island's
guest cottage
. Massaro received those renderings as part of the purchase of the island.
Massaro sold his sheet metal business in 2000 to focus on the creation of the house, the construction phase of which took place between 2003 and 2007.
All that survived of the original Chahroudi commission were five Wright drawings, including a floor plan with ideas for built-in and stand-alone furniture, a building section, and three elevations. Massaro hired Thomas A. Heinz, an architect and Wright historian, to complete the unfinished design.
Heinz employed 3D CAD/CAM computer softwareto model aspects of Wright's design not self-evident in the original renderings. His design also provided updated heating and cooling solutions that were not part of the original Wright concept, such as
air conditioning
and radiant heating. It was also determined to add Chimney King Decorative Chimney Shrouds for the homes six fireplaces.
In common with Fallingwater, the house's design does not merely accommodate but actually incorporates the island's topography. A 12-foot high, 60-foot long rock forms the exterior to the entry and an interior wall, while a smaller rock doubles as a
kitchen and bathroom
wall. Again, like Fallingwater's signature terraces, the house features a cantilevered deck that stretches 25 feet over Lake Mahopac. Its 18-foot high living area is illuminated with 26 triangular skylights.
Throughout the construction, Massaro was in conflict with the
Frank Lloyd
Wright Foundation, which was established by the architect in 1940 to conserve his intellectual property. Massaro told interviewers that the foundation requested $450,000 to render working drawings from Wright's sketches and supervise construction of the house. After Massaro hired Heinz, the foundation filed a lawsuit, which ended in a settlement that limited Massaro to referring to the structure as being "inspired by Frank Lloyd Wright".
To date, the foundation refuses to recognize Massaro House as an official Frank Lloyd Wright creation. Philip Allsopp, the foundation's chief
executive office
, has stated: "It's not a Frank Lloyd Wright house, because it hasn't been certified by the foundation."
Yet in the Los Angeles Times, Massaro defended the Wright connection. "You hear these purists that talk about how no unbuilt Frank Lloyd Wright house should ever be built because Frank Lloyd Wright isn't here anymore," he said. "And then you take a look at this masterpiece of his –I'm sure Frank would rather have it built than not built at all.
What Houzzers are commenting on: