The Collection German Furniture
Furniture and Accessories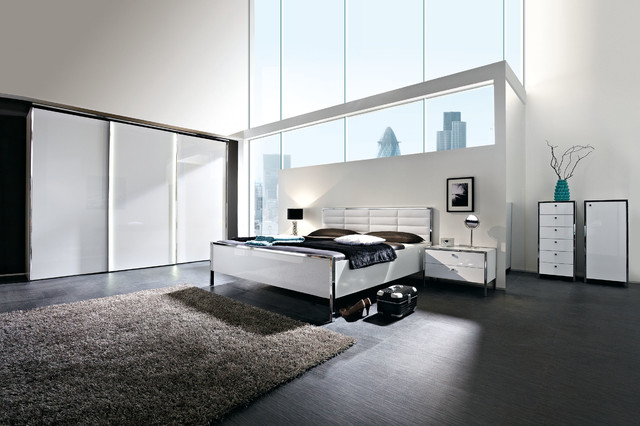 Trente Nolte
If you are looking for clarity, TRENTA is right for you. Straight lines in the classic Bauhaus style. Front designs in high-gloss black or white finish, set in elegant, high quality chromed steel. Choose from a wide range of hinged and sliding door wardrobes, such as the spacious Panorama sliding door wardrobe shown here.
Even with all those straight lines, the TRENTA design language offers an exceptionally level of comfort. For example, the bed units are also available with an optional upholstered headboard and footboard.
The 5-door hinged door wardrobe and generous chest of drawers with four full-width drawers provide ample storage space and functional details.
Chests of drawers and bedside tables - all with self-closing and soft close - set the right atmosphere.
Clean lines and the stark contrast of glossy black and chrome give TRENTA an unmistakable elegance - simultaneously pure and atmospheric.
Chests of drawers and bedside tables in different heights and widths that can be combined in many different ways quickly find their right place, impressively completing your bedroom decor.
TRENTA makes difficult spaces easy to personalize, with a high level of individuality, functionality and comfort.
The 5-door hinged door wardrobe with a width of 250 cm and the free-standing chests always provide plenty of storage space.
And- TRENTA does not only shine during the day. At night, the indirect lighting for the handles (optional) and the headboard creates an incomparable sense of well-being in your individual styled bedroom.
TRENTA stands for modernity, individuality and timeless design.
The extensive range of beds in all imaginable widths and design options, bedside cabinets, hinged and sliding door wardrobes, chests of drawers and functional accessories all help you turn your interior design ideas into reality.
Glossy surfaces, the sturdy frame construction used in our beds, bedside tables and chests of drawers with high quality chromed steel together with the finest quality down to the last details all ensure that you will be enjoying TRENTA for many years to come.