Houseplans.com
Architects & Building Designers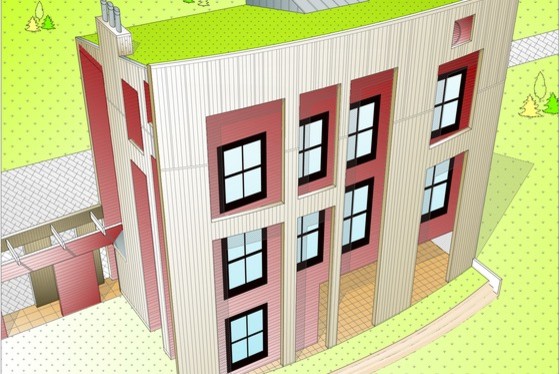 House Plan 525-1
House Plan #525-1 : Houseplans.com
1-800-913-2350
Plan 525-1
1816 sq ft
2 beds
2.00 baths
32 ft wide
22 ft deep
×
Plans
Main Floor Plan
Reverse
Upper Floor Plan
Reverse
Other Floor Plan
Reverse
Other Floor Plan
Reverse
Plan Description
This project is Green. It is a three story SOD ROOF house with a small
basic footprint of 600 square feet, equaling a total of 1816 square
feet, with an optional detached SOD ROOF garage and workshop of 640
square feet, including the workshop, connected to the house by an
external walkway which forms one end of the lawn area. The SOD ROOF
provides energy
conservation
, as do the double glazed windows, the
majority of which are set back from the external shell of the building.
In this manner, the living spaces of the house are shielded from the
elements, provides a 'Brise Soleil' to the house. The ground floor
porches are set back from the outer shell of the building to provide a
shaded outdoor space. The house was conceived and designed to have a
small footprint on the land, while providing relief from the elements;
the curved wall provides shelter to the windows on the Southern exposure
while affording optimal views. \
\
The house and its energy saving devices has the capacity to utilize
hydronic heating on the ground level, forced air system for the upper
levels, a Grey Water Reuse System, the Smith Water Saver, an optional
remote Solar Panel Array, and can employ an energy system, not connected
to the electrical grid. The ground floor of the house has a
bedroom/office with its own wood burning stove, an entry, mudroom, a
bathroom, and an outdoor porch. The second floor has an open plan which
includes a living room/fireplace, a dining room, kitchen, and
pantry
.
The third floor is given over to the master bedroom/fireplace, bathroom,
and dressing room. The interior of the house is to be constructed of T&
G Plywood throughout, screwed to the studs on both the walls and
ceilings, so no gypsum board or paint will be used.
Specifica
What Houzzers are commenting on: