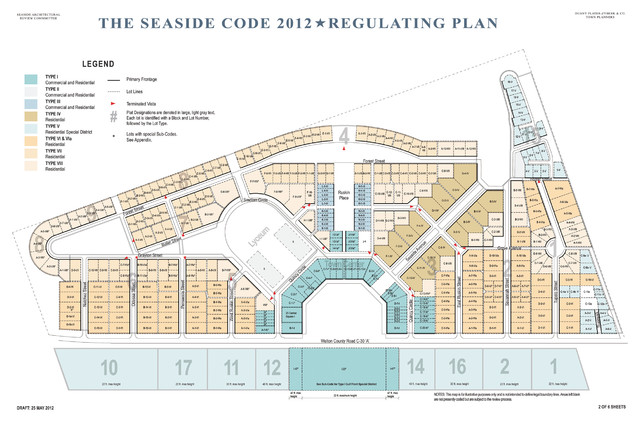 Seaside
The Seaside Code: Regulating Plan, 2012.

Drawing by Duany Plater-Zyberk & Co, in collaboration with Mike Watkins, from "Visions of Seaside" by Dhiru A. Thadani (Rizzoli, 2013), courtesy of the author.
What Houzz contributors are saying:

Seaside's plan is updated periodically, most recently in 2012. A few things should be apparent in the plan: The streets create a network that is continuous, meaning no cul-de-sacs; the functions are zoned into residential (beige and tan) and commercial-residential (blue and green); and the Central Square is just that, central to the boundaries of the town. Even homes removed from commercial uses are within walking distance of them.Less apparent, but nevertheless part of the drawing, is the "primary frontage" (thick black lines) relating to a building's form and the red arrows indicating a "terminated vista." These make it clear that appearance is a strong part of the town plan, not just in terms of style but in the recognition of how buildings shape the public spaces.
What Houzzers are commenting on: