Kenneth Philp Landscape Architects
Landscape Architects & Designers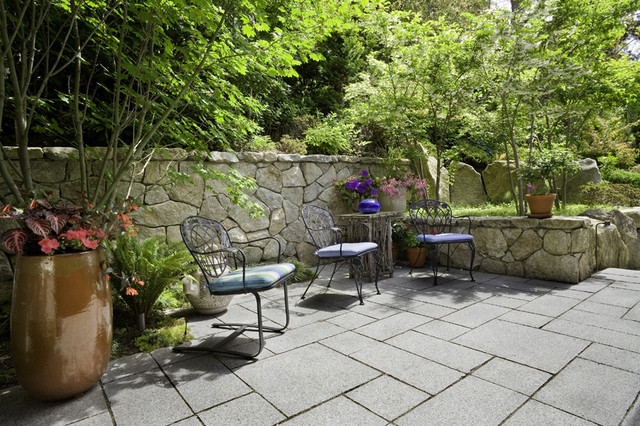 Perkins Lane Residence
At the base of a stretch of steep bluffs along the shores of Puget Sound, this home was knocked from its foundation by a series of slope failures and landslide events nearly a decade ago. Although the process of unearthing and restoring the site was painstaking, taking nearly five years to accomplish, the current site conditions give no indication of the previous devastation.
The waterfront is now a beautiful and rustic coastal setting, seemly far removed from the nearby city. This salt-sprayed environment requires a hardy planting palette unlike most other gardens. To survive direct exposure to salt and prevailing winds,
site planning
preparation needed to adhere to a different set of rules. Large stones were used to visually connect one to the expansive panoramic aspect of the site, while also serving to add stability to a slope that inherently migrated. We used predominantly local stone such as granite for its regional look, providing dramatic and natural shapes. The courtyard gardens in the upland portion of the garden are much more formal. Situated directly off the dining room, this garden space was crafted as an extension of the interior.
The garden as a whole is a whimsical and natural retort to the earlier ruin that devastated the area.
Photos by Steve Young.
What Houzzers are commenting on: