Debbie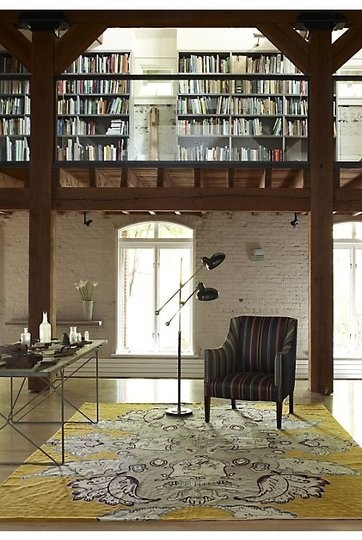 Industrial Inspired Floor Lamps Roundup | Apartment Therapy San Francisco
Industrial Inspired
Floor Lamps
Roundup You know the rule, three points of light in every room, but do you live by it? I might know of one room in my home that does not pass that test. With one ceiling lamp and a table lamp, the next obvious addition is a floor lamp. With the halogen torchiere days (thankfully) far behind us, here's a roundup of industrial inspired floor lamps. Not only will these lamps provide an additional light source, they will also make a beautiful addition to any room. FROM LEFT TO RIGHT: • Enzo Lamp , Anthropologie, $398. • Found and Treasured Lamp , handmade from vintage machinery parts, Anthropologie, $1,400. • Loft Floor Lamp , West Elm, $149. • Pharmacy Lamp , Crate and Barrel, $199. • Task Over-Reach Floor Lamp , Room and Board, $749. Tags lighting Share Comments (9) Floor lamps are one source of light that are sometimes forgotten. I love having matching floor lamps on each end of a sofa in a large room. See this industrial lamp in bronze with a silk shade to kick it up a notch!
http://bit.ly/dlVnLF
The Designer Insider posted by TheDesigner on June 24th 2010 at 10:36am view TheDesigner's profile Loving that rug. Does anyone know where its from or where a similar style can be found? posted by julianne7 on June 24th 2010 at 10:36am view julianne7's profile Are the halogen torchiere days behind us? Aw, shucks. I still really love my black one. Bounced off the white ceiling of my work room it's still the best flood light I've ever had for doing my sewing and other crafty stuff. Please tell me it isn't so. =( posted by veslabeachgirl on June 24th 2010 at 10:50am view veslabeachgirl's profile ha ha ha, a $1400 lamp from anthropologie... posted by Pixie on June 24th 2010 at 10:56am view Pixie's profile julianne7, the rug is from Anthropologie. posted by needleinthehay on June 24th 2010 at 11:08am view needleinthehay's profile Ah, the three points of light rule... Nope. I think I'm lucky to have managed even two points in most of my v
What Houzz contributors are saying:

Speaking of grand scales, I have a feeling this place would take my breath away in person. The posts draw the eye up, giving the whole space a sense of awesomeness.

Perfect for a reading nook, classic swing-arm pharmacy lamps are ideally suited to loft living, but look just as great in more traditional spaces.
What Houzzers are commenting on: