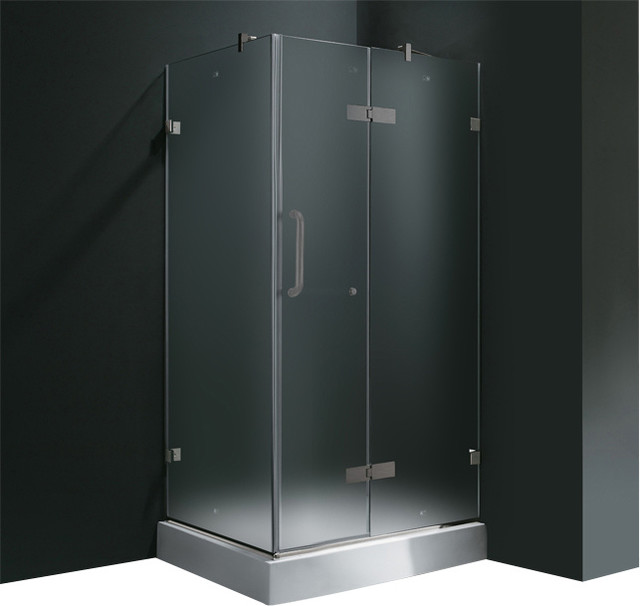 VIGO VG6011BNMT32WL Shower
Enjoy the beauty and elegance of this uniquely stylish and totally frameless VIGO square-shaped
shower
enclosure.
Single water deflector redirects water toward the inside of the shower
Clear side seals keep the door watertight
Full-length magnetic catch allowing for the door adjustment and waterproof protection
Clear PVC side gasket installs vertically onto door to ensure a water-tight seal between door and side panel when the door is in the closed position
3/8" Frosted tempered glass ANSI Z97.1 certified
Brushed nickel finished stainless steel and solid brass construction
hardware
has a VIGO lifetime guarantee to never rust
Glass support plates are made of solid cast brass with all stainless steel moving parts to ensure superior quality and durability.
Self closing hinge allows smooth closing of the door.
Sealed hinges providing functionality and leak-proof protection
Fixed arm support ensures wall anchoring and reinforces wall stability
Stylized
towel
bar for a completely different look
Right sided installation
Door swing 20"
Refer to model number: VG06011BNMT32R
Limited Lifetime Warranty
Product Specifications
Ready to ship to the Continental U.S. in 1 - 7 days.
Product Description
Enjoy the beauty and elegance of this uniquely stylish and totally frameless VIGO square-shaped shower enclosure.
Single water deflector redirects water toward the inside of the shower
Clear side seals keep the door watertight
Full-length magnetic catch allowing for the door adjustment and waterproof protection
Clear PVC side gasket installs vertically onto door to ensure a water-tight seal between door and side panel when the door is in the closed position
3/8" Frosted tempered glass ANSI Z97.1 certified
Brushed nickel finished stainless steel and solid brass construction hardware has a VIGO lifetime guarantee to never rust
Glass support plates are made of solid cast brass with all stainless steel moving parts to ensure superior quality and durability.
Self closing hinge allows smooth closing of the door.
Sealed hinges providing functionality and leak-proof protection
Fixed arm support ensures wall anchoring and reinforces wall stability
Stylized towel bar for a completely different look
Right sided installation

Door swing 20"
Refer to model number: VG06011BNMT32R
Limited Lifetime Warranty
Need more info? Ask a question