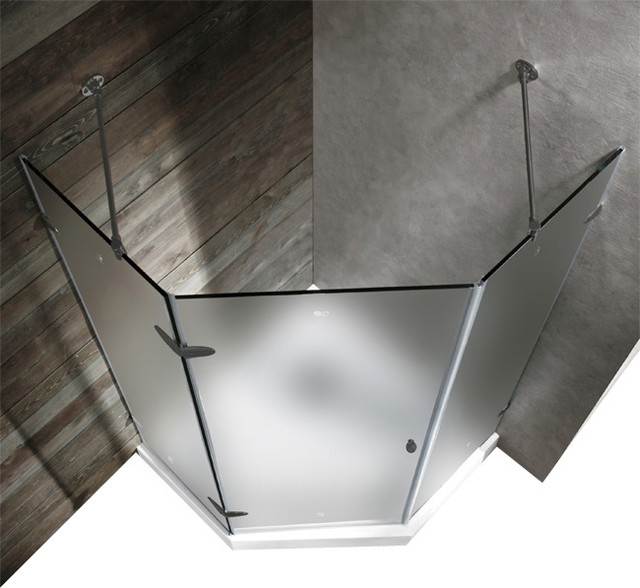 What Houzzers are commenting on:
VIGO VG6061BNMT40WL Neo-Angle Shower
Both dramatic and space-saving, the VIGO frameless neo-angle shower enclosure creates a beautiful focal point for your bathroom.
Shower enclosure installation makes an excellent home improvement project
Single water deflector redirects water toward the inside of the shower
Side clear seals keep the door watertight
Full-length magnetic catch allowing the door adjustment and waterproof protection
Clear PVC side gasket installs vertically onto door to ensure a water-tight seal between door and side panel when the door is in the closed position
3/8" Frosted tempered glass ANSI Z97.1 certified
Self closing hinge allows smooth closing of the door.
Sealed hinges providing functionality and leak-proof protection
Fixed arm support ensures wall anchoring and reinforces wall stability
Discrete, round door handles are made of solid brass, mounted on pre drilled glass
Left swing door
Central opening for easy access to the shower
Door swing 24 1/2"
Shower Tray: VG06069WHT40
Non-porous surface makes cleaning and sanitizing faster and more effective
Multi-layered backing of thick fiberglass / resin encloses wood reinforcement to prevent flexing of floor pan
At least 30% thicker and stronger than other makes
Pre-leveled with integral tile flange on 2 sides to facilitate installation
Textured bottom for extra safety
Standard 3 1/2" pre-drilled drain opening
Refer to model number: VG6061BNMT40WL
All VIGO
Product Specifications
Ready to ship to the Continental U.S. in 1 - 5 days.
Product Description
Both dramatic and space-saving, the VIGO frameless neo-angle shower enclosure creates a beautiful focal point for your bathroom.
Shower enclosure installation makes an excellent home improvement project
Single water deflector redirects water toward the inside of the shower
Side clear seals keep the door watertight
Full-length magnetic catch allowing the door adjustment and waterproof protection
Clear PVC side gasket installs vertically onto door to ensure a water-tight seal between door and side panel when the door is in the closed position
3/8" Frosted tempered glass ANSI Z97.1 certified
Self closing hinge allows smooth closing of the door.
Sealed hinges providing functionality and leak-proof protection
Fixed arm support ensures wall anchoring and reinforces wall stability
Discrete, round door handles are made of solid brass, mounted on pre drilled glass
Left swing door
Central opening for easy access to the shower
Door swing 24 1/2"
Shower Tray: VG06069WHT40
Non-porous surface makes cleaning and sanitizing faster and more effective
Multi-layered backing of thick fiberglass / resin encloses wood reinforcement to prevent flexing of floor pan
At least 30% thicker and stronger than other makes
Pre-leveled with integral tile flange on 2 sides to facilitate installation
Textured bottom for extra safety
Standard 3 1/2" pre-drilled drain opening
Refer to model number: VG6061BNMT40WL
All VIGO
Need more info? Ask a question