Benjamin Vogt / Monarch Gardens
Landscape Architects & Designers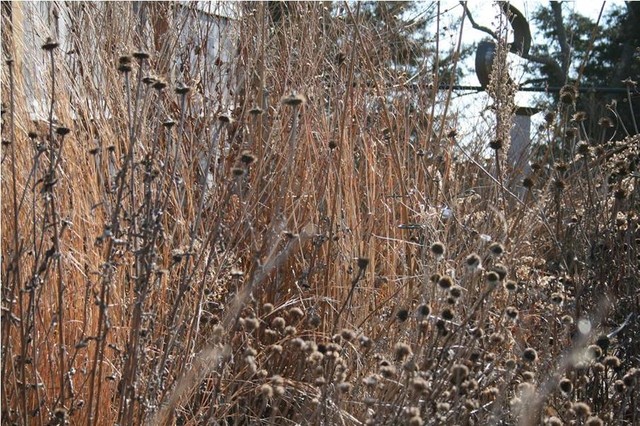 The Many Reasons Not to "Clean Up" Your Garden
What Houzz contributors are saying:

"Winter interest" is a landscape term that means there's something beautiful to look at during the cold season. Usually, that means grasses or redtwig dogwoods, but any old perennial will do — like the ones shown here. Winter interest isn't just for us, though; it's for birds, butterflies, frogs and soil microbes munching on leaves and making the garden healthier for summer. A lot will be going on if you leave the garden up until a spring cut-down — get out there and enjoy it this winter!Tell us: How do you help natural processes in your garden all year long? What gives you the greatest winter interest?

Celebrate winter. Life goes by too fast — the moment is gone as soon as we live it. Embrace the now. Embrace the winter garden. Leave those plants up, not only because you're tired or like the look of them, but because they help overwintering wildlife like butterflies and caterpillars and frogs and bees, which all need the protective cover. Plus, the tall stems of spent plants gather more snow to hydrate the soil and protect plants from cold temps. It's not your garden, it's the garden's garden, right?
What Houzzers are commenting on: