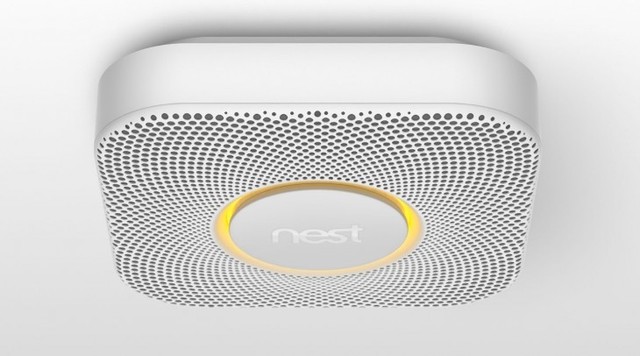 Nest Protect
http://nest.com/smoke-co-alarm/life-with-nest-protect/
What Houzz contributors are saying:

Nest, the innovative company that reinvented the thermostat, now makes a talking smoke alarm and carbon monoxide detector. Like its thermostat, the Nest Protect is an object of relative beauty. It looks like it could be an Apple product, with a square shape with rounded corners and a light circle in the middle. The Nest Protect sounds off with a very loud alarm like other detectors do when smoke, heat or carbon monoxide is detected. But well before that point, the Nest gives you information about where the problem might be and what is going on, according to the company. A voice says, "Heads up. There's smoke in the living room." Note that all the Nest Protect units in the house will tell you this. You can silence it by waving your hand in the air near it. If you don't dismiss the alert, the beep, beep, beep alarm will sound like any other smoke detector. However, just as with the "preview," the beeps will be punctuated by that voice again, giving details about what's going on. While the alarm is beeping, it will again say: "
Emergency
. There's smoke in the living room," so you know exactly what it's detecting even if you slept through or weren't home for the initial heads-up.

But if Rogers and Fadell gave the fledgling smart-home and energy-management industry a much-needed makeover, Google just gave it an arena in which to perform. After all, it's an industry that Geschickter says a lot of venture capitalists have all but given up on. "Many of these companies have not done very well," he says. "My prediction was about 60 to 70 percent would be out of business in two to three years. On the flip side, you can call Nest a winning racehorse. This is going to lead to a serious rethinking of the venture community home management automation space. It definitely shifts the playing field."The company purchase makes sense. Nest's relationship with Google goes back to 2011 (decades in the world of Silicon Valley start-ups.) Google Ventures led Nest's series B and C rounds of funding. Plus, Google isn't entirely a stranger to the home design industry. In 2011 Google retired Google PowerMeter, its flirt with providing a free energy monitoring tool for which users provided smart meter data. "They couldn't get any traction with it," Geschickter says. "But now it seems they've come back around and jumped in with both feet." What's more, in the early 2000s Google acquired a little-known software company called SketchUp, which makes a modeling program that lets architects create quick and easy designs they can share with clients. It later sold the software, but the program is ubiquitous among architects today. "Google's money and power got the name of the product out there," says Randel.
What Houzzers are commenting on: