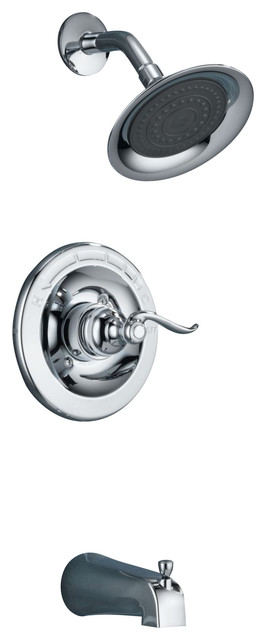 Foundations Windemere Monitor 14 Series Tub and Shower Trim
Delta BT14496 Foundations Windemere Monitor 14 Series Tub and
Shower
Trim with Single Function Showerhead and Diverter Tub Spout in Chrome.
The sweet, sculpted curves of the Windemere Bath Series bring a whimsical touch to the bath. Delta Monitor faucets helps keep the water a constant temperature to help ensure you and your family has a safe and comfortable shower experience day after day. Therefore bathers will not experience a sudden unsafe change in shower water temperature just because a toilet is flushed or a dishwasher or washing machine is turned on. These faucets provide a practical, hardworking solution that will stand the test of time and deliver a high level of durability and performance that can be trusted for years to come. Windemere blends beautifully with a variety of decors.
Delta BT14496 Foundations Windemere Monitor 14 Series Tub and Shower Trim with Single Function Showerhead and Diverter Tub Spout in Chrome, Features:
SH 2.0 gpm, 7.6 L/min
Must purchase rough-in kit R10000-UNBX separately
Single-setting pressure balance cartridge
Metal lever handle
Handle adjusts temperature
Includes pull-up diverter tub spout
Raincan showerhead
ADA compliant when installed properly
Delta Faucet is one of the first in the industry to qualify for the new WaterSense program developed by the EPA for showerheads and handshowers.
Flexibility is the big benefit of the MultiChoice Universal Valve.
Once the MultiChoice rough is installed, future shower function upgrades or style changes can easily be made without altering the plumbing behind the wall.
Requires: Delta-R10000-UNBX MultiChoice Universal Tub and Shower Valve Body
Recommended:
Delta-B3596LF Foundations Windemere Two Handle Widespread
Bathroom Faucet
in Chrome,
Delta-B2596LF Foundations Windemere Two Handle Centerset Bathroom Faucet in Chrome
Manufacturer: Delta Faucets
Model Number: BT14496
Manufacturer Part Number: BT14496
Collection: Foundations Windemere
Finish Code: :
Finish: Chrome
UPC: 34449624237
This product is also listed under the following Manufacturer Numbers and Finish Codes:
Delta-BT14496, BT14496, BT14496, Delta BT14496
Product Category: Tub and
Shower Faucets
Product Type: Tub and
Shower Faucet
Product Specifications
Manufactured By

Delta

Sold By

Width

8.1"

Depth

9.8"

Height

4.1"

Color

Chrome

Designer

Delta

Category

Style
Ready to ship to the Continental U.S. in 3 - 5 days.
Product Description
Delta BT14496 Foundations Windemere Monitor 14 Series Tub and Shower Trim with Single Function Showerhead and Diverter Tub Spout in Chrome.

The sweet, sculpted curves of the Windemere Bath Series bring a whimsical touch to the bath. Delta Monitor faucets helps keep the water a constant temperature to help ensure you and your family has a safe and comfortable shower experience day after day. Therefore bathers will not experience a sudden unsafe change in shower water temperature just because a toilet is flushed or a dishwasher or washing machine is turned on. These faucets provide a practical, hardworking solution that will stand the test of time and deliver a high level of durability and performance that can be trusted for years to come. Windemere blends beautifully with a variety of decors.

Delta BT14496 Foundations Windemere Monitor 14 Series Tub and Shower Trim with Single Function Showerhead and Diverter Tub Spout in Chrome, Features:
SH 2.0 gpm, 7.6 L/min
Must purchase rough-in kit R10000-UNBX separately
Single-setting pressure balance cartridge
Metal lever handle
Handle adjusts temperature
Includes pull-up diverter tub spout
Raincan showerhead
ADA compliant when installed properly
Delta Faucet is one of the first in the industry to qualify for the new WaterSense program developed by the EPA for showerheads and handshowers.
Flexibility is the big benefit of the MultiChoice Universal Valve.
Once the MultiChoice rough is installed, future shower function upgrades or style changes can easily be made without altering the plumbing behind the wall.

Requires: Delta-R10000-UNBX MultiChoice Universal Tub and Shower Valve Body

Recommended:
Delta-B3596LF Foundations Windemere Two Handle Widespread Bathroom Faucet in Chrome,
Delta-B2596LF Foundations Windemere Two Handle Centerset Bathroom Faucet in Chrome

Manufacturer: Delta Faucets
Model Number: BT14496
Manufacturer Part Number: BT14496
Collection: Foundations Windemere
Finish Code: :
Finish: Chrome
UPC: 34449624237

This product is also listed under the following Manufacturer Numbers and Finish Codes:
Delta-BT14496, BT14496, BT14496, Delta BT14496

Product Category: Tub and Shower Faucets
Product Type: Tub and Shower Faucet
Need more info? Ask a question