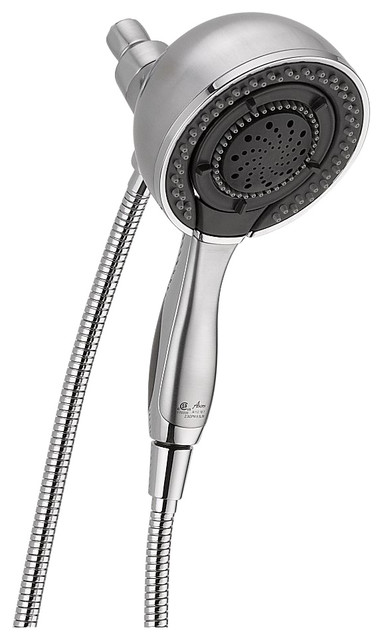 In2ition Two-In-One Shower Arm Mount Showerhead in Brushed Chrome
Quantity:
Out of Stock
Free Shipping!
Only 4 Left!
Delta 58466-BC In2ition Two-In-One
Shower
Arm Mount Showerhead in Brushed Chrome
The Delta Faucet Company creates products with the highest level of quality and technological advancement. Today the company offers hundreds of distinct choices that reflect your personal style. Designers, builders and remodelers may select from a multitude of hand-held showers and showerheads in a wide variety of styles to personalize any bath. The unique In2ition interlocking handshower and showerhead system gives the versatility of a handshower and the convenience of a showerhead all in one product. The In2ition Shower combines a four-spray or five-spray massage hand-held shower with an extra-wide fixed showerhead. The handshower simply slips into position, and is easily removed. The In2ition Shower features an integral three-way diverter with easy-turn lever to redirect water from the fixed shower head to the hand-held, or both at the same time for a truly, full-body shower experience.
Delta 58466-BC In2ition Two-In-One Shower Arm Mount Showerhead in Brushed Chrome, Features:
Wash the day away with the In2ition two-in-one shower.
Use the integrated showerhead and handshower together or separately to get water where you need it most. Giving you the warmth and flexibility of two streams of water at once.
Four-spray settings
72" plated ribbon hose
2.5 gpm, 9.5 L/min
Faucet and Finish Lifetime Limited Warranty
Manufacturer: Delta Faucets
Model Number: 58466-BC
Manufacturer Part Number: 58466-BC
Collection: In2ition
Finish Code:
Finish: Other Finishes
UPC: 34449670159
This product is also listed under the following Manufacturer Numbers and Finish Codes:
Delta-58466-BC, D58466-BC, 58466-BC, Delta 58466-BC
Product Category: Tub & Shower Faucet Accessories
Product Type: Showerhead
Product Specifications
Manufactured By

Delta

Sold By

Width

8.9"

Depth

20.2"

Height

3.8"

Color

Brushed Chrome

Designer

Delta

Category

Style
Ready to ship to the Continental U.S. in 3 - 5 days.
Product Description
Delta 58466-BC In2ition Two-In-One Shower Arm Mount Showerhead in Brushed Chrome

The Delta Faucet Company creates products with the highest level of quality and technological advancement. Today the company offers hundreds of distinct choices that reflect your personal style. Designers, builders and remodelers may select from a multitude of hand-held showers and showerheads in a wide variety of styles to personalize any bath. The unique In2ition interlocking handshower and showerhead system gives the versatility of a handshower and the convenience of a showerhead all in one product. The In2ition Shower combines a four-spray or five-spray massage hand-held shower with an extra-wide fixed showerhead. The handshower simply slips into position, and is easily removed. The In2ition Shower features an integral three-way diverter with easy-turn lever to redirect water from the fixed shower head to the hand-held, or both at the same time for a truly, full-body shower experience.

Delta 58466-BC In2ition Two-In-One Shower Arm Mount Showerhead in Brushed Chrome, Features:
Wash the day away with the In2ition two-in-one shower.
Use the integrated showerhead and handshower together or separately to get water where you need it most. Giving you the warmth and flexibility of two streams of water at once.
Four-spray settings
72" plated ribbon hose
2.5 gpm, 9.5 L/min
Faucet and Finish Lifetime Limited Warranty

Manufacturer: Delta Faucets
Model Number: 58466-BC
Manufacturer Part Number: 58466-BC
Collection: In2ition
Finish Code:
Finish: Other Finishes
UPC: 34449670159

This product is also listed under the following Manufacturer Numbers and Finish Codes:
Delta-58466-BC, D58466-BC, 58466-BC, Delta 58466-BC

Product Category: Tub & Shower Faucet Accessories
Product Type: Showerhead
Need more info? Ask a question