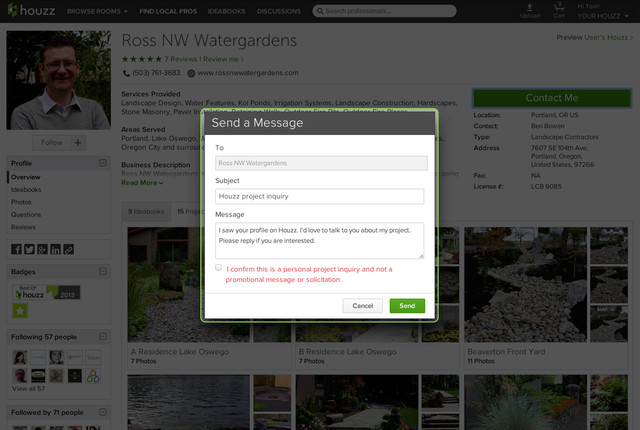 Effective Messaging: Contacting a Pro on Houzz
What Houzz contributors are saying:

After you click the Contact Me button, a box with a basic message and the subject line "Houzz project inquiry" will appear. You can rewrite both of these fields to make the message more personalized.How to start the conversation. "It's nice to hear what [the clients] are looking for — building or remodeling their own house versus looking for something new — plus what area they're in and what work they're considering," says Powell. Include any specific challenges you foresee and as many details as possible. Powell offers this example of a message he enjoys receiving from a potential client:"We have seen your work on Houzz and love it! We are very interested in getting to know more about you and your company and if working together would be a possibility. We are looking to build [project type] and are hoping to get started [when]. We'd like to begin working on plans [when] and are just looking for the right [professional type]. We're looking in [area names]. Do you do work there? Here are some photos of our project. Lastly, we're hoping to stay under [dollar amount]. Please let us know if you'd like to schedule some time to sit down and talk more."
What Houzzers are commenting on:
Step by step on how to hire a contractor.