Katrina Guevara
Media & Bloggers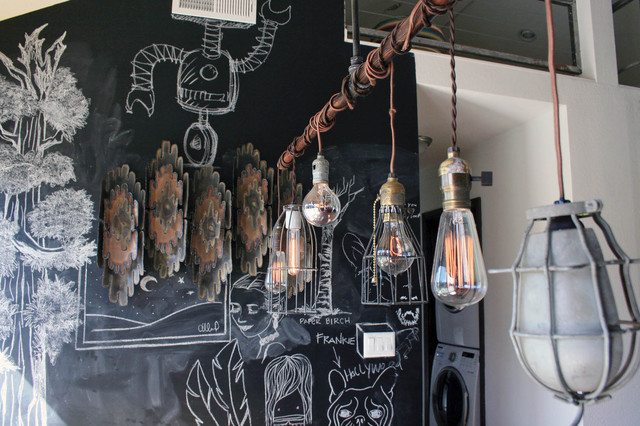 lightbulb.jpeg
The Barone couple's one-of-a-kind
dining room chandelier
was created from vintage bulb cages and antique bulbs, truly one-of-a-kind According to Cat, it's her favorite piece in the house.
This photo has 3 questions
What Houzz contributors are saying:

In the
living room
, Cat and Giovanni painted a wall with chalkboard paint to allow for an ever-changing canvas for artwork. The current drawings on display are by Cat and her sisters.Katrina Guevara: How did you find your house? Was it love at first sight?Cat Madrid-Barone: Gio and I found our house from an app on our iPhone. The real estate agent we were dealing with at the time couldn't go with us to look at the house, so we went by ourselves. Once we walked in, we instantly knew it was the house, no questions about it. We didn't even talk to each other when we first saw it — we sorta just knew together. It felt cool, strange yet familiar at the same time.

You can also create a similar installation of random Edison lightbulbs. This example creates a vibe of an easygoing and low-maintenance interior.See the rest of this home
What Houzzers are commenting on: