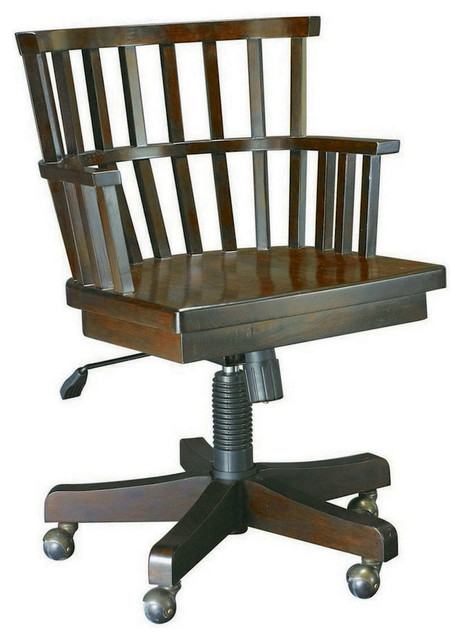 Hammary Structure Office Desk Chair
Office Desk Chair belongs to Structure collection by Hammary There is beauty in simplicity. And seldom does furniture possess more effortless beauty than Hammary's new "Structure" collection. We have stripped away the excesses of modern design and focused on the bare essentials to produce an 11-piece collection that pays tribute to the precision and straightforward creations of the
industrial age
. Inspired by the stark, utilitarian designs from the early 20th Century, these pieces are crafted from metal and birch veneers and cleverly incorporate materials such as pipes, rivets, scythed wood, wheels and metal banding. Table tops are banded in metal - an idea borrowed from heavy-duty industrial trolleys - to create a unique touch of style and to enhance durability. Meanwhile, the heavily distressed finish creates a well-worn feel that will transform any room. This versatile group includes occasional tables and home office pieces, as well a media console and a rolling desk chair. Especially interesting is the vintage artist's easel, which comes with a universal mounting plate and has been repurposed to hold a flat-screen TV. Sometimes, sophistication comes in the most simple of designs. "Structure" from Hammary.
Features:
Castered
Adjustable height 31.5 - 35"
Desk
Chair 1
Product Specifications
Manufactured By

Hammary

Sold By

Width

23"

Depth

23"

Height

35"

Materials

Wood

Designer

Hammary

Category

Style
Ready to ship to the Continental U.S. and Canada in 10 - 12 days.
Product Description
Office Desk Chair belongs to Structure collection by Hammary There is beauty in simplicity. And seldom does furniture possess more effortless beauty than Hammary's new "Structure" collection. We have stripped away the excesses of modern design and focused on the bare essentials to produce an 11-piece collection that pays tribute to the precision and straightforward creations of the industrial age. Inspired by the stark, utilitarian designs from the early 20th Century, these pieces are crafted from metal and birch veneers and cleverly incorporate materials such as pipes, rivets, scythed wood, wheels and metal banding. Table tops are banded in metal - an idea borrowed from heavy-duty industrial trolleys - to create a unique touch of style and to enhance durability. Meanwhile, the heavily distressed finish creates a well-worn feel that will transform any room. This versatile group includes occasional tables and home office pieces, as well a media console and a rolling desk chair. Especially interesting is the vintage artist's easel, which comes with a universal mounting plate and has been repurposed to hold a flat-screen TV. Sometimes, sophistication comes in the most simple of designs. "Structure" from Hammary.

Features:
Castered
Adjustable height 31.5 - 35"


Desk Chair 1
Need more info? Ask a question