Delta Studio
Kitchen & Bath Designers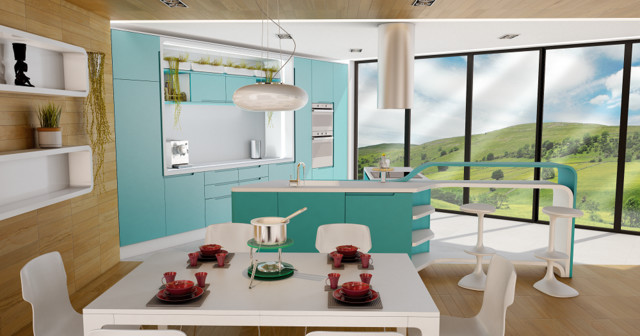 Kitchen Design-The Smart Luxury Collection-MOLTEN FLOW
A kitchen with a special design with materials that allow you to play with complex shapes with curved lines. Is a collection whose defining characteristic is the ability to make
organic shapes
. Materials used to form the image of this collectios are composite and matte painted MDF, edge milling handles that guide the look in certain directions, on furniture fronts.
pantry
tall unit
tall unit with oven, microwave oven and storage
tall unit with exctractible system
base unit with one shelve
base unit with three drawers
base unit with three drawers
base unit with one shelve
tall unit with
built in refrigerator
wall unit with
closed storage
and open shelves
base unit with joly system
base unit with cooker and four drawers
base unit with dishwasher
base unit with sink and selective waste bins system
This composit material has special properties that allow some forms difficult or impossible to achieve with other materials. Its main properties are the possibility to be thermoformed, color uniformity in thickness and can be glued with
invisible
joints. What this means? Thermoforming allows building organic shapes; thanks to color uniformity in thickness the material can be machined or polished keeping it's texture, and the identical color adhesives permit to obtain invisible joinings. This material can be found in uni and textured colors.