cherimitchell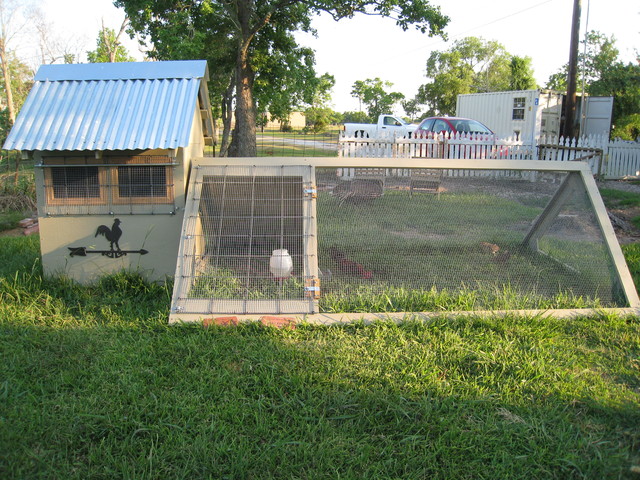 What Houzz contributors are saying:

5. Cheri Mitchell of Winnie, Texas, rescued her Godl Dutch Bantams from a training facility for duck hunting dogs. After snagging two hens and a rooster from certain death, she realized she needed to build a place for them to live. This cute little house has wheels on it, so it can be pulled along with the
chicken run
to fertilize different parts of the yard and keep the chicken run fresh and clean.

Seek out attractive digs. The look and feel of your coop can be incredibly important in keeping the peace with neighbors. You don't need to spend a fortune on a designer coop if you don't want to, but do pay attention to how it will fit in with other structures in your neighborhood. We found a low-profile A-frame chicken coop on Craigslist and with a fresh lick of paint ended up with a cute coop on a budget.See more about home chicken coopsMore chicken keeping resources:Backyard Chickens has informative forums and resource
articles
.My Pet Chicken has day-old chicks (three-chick minimum order), coops and supplies.Murray McMurray is a well-respected hatchery. The minimum chick order is 25, so you might want to go in with a few friends.

A
triangular
design works well for this adjustment period as well. If you will be raising new chicks each year, you might want to consider this design.
What Houzzers are commenting on: