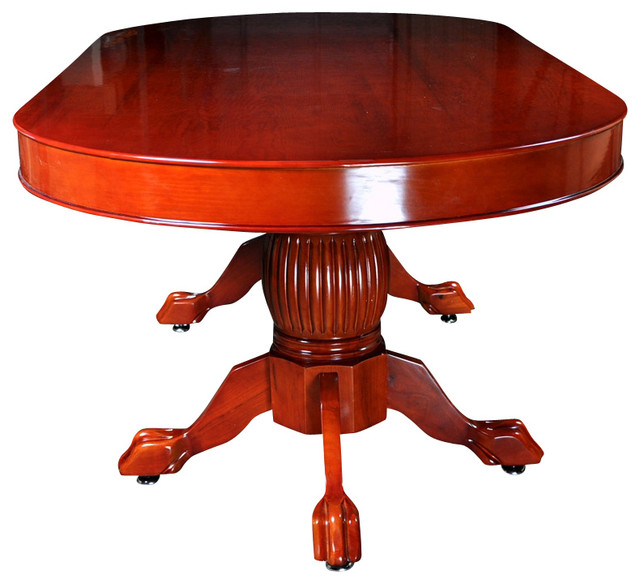 BBO Poker The Premier Premium Poker Table with Dining Top - BLK
A poker table that matches your style!
Understated elegance and refined style best describes the setting at games around a Premier poker table. As players gather around with big dreams for the evening's game, the first thing they will notice is the conversion dealer spot that plays just like a regular seat when a full game starts, but transitions into a designated dealer spot as the night grow long and players begin falling off. The Premier features hardwood legs and trim, professional furniture grade soft vinyl, casino grade high density foam and playing surface fabric, and stunning brass 4in cup holders to complete the exclusive design. The Premier can be upgraded with a matching
dining top
, and matching chairs are available, please browse additional configurations.
Our Premiers have been upgraded with a new design pedestal legs and upgraded table surface materials. The Premier comes with our coffee color armrest, if you want to change the color, we can do that as well.
For players who want to make a statement without saying a word, we present the Premier. Designed to accommodate the upscale poker night, the Premier was designed exclusively by BBO poker tables for consumers that desire the best.
The first thing your guests will comment on is usually our "convertible dealer section", which has an
isolated
dealer position without the tray. In most home-games, there's rarely chip color ups during play, which renders an actual chip tray useless. Our convertible dealer section is actually a standard player position when the table is operating on full handed action. But as happens in most poker games, when players lose their stack, the table can be arranged so a busted player takes over the dealer position and commences dealing the rest of the evening for their buddies. We can only provide the dealer position, that guy you sucker into dealing for the remainder of the evening, that's up to you to find.
The Premier features a 7in ultra-wide, cup-holder (4in) mounted armrest which gives the table a superior stability when players are resting their arms. The playing surface features a 4in oak racetrack for stacking mountains, and the hand carved solid oak pedestals give the table a worthy base.
The Premier also comes with a pre-mounted drop box and bill slot, in the event you need to take a rake, or even just to keep the "monopoly" money safe during the game.
The Premier is optimized for exclusive home games, and is a BBO poker tables
best seller
!
All Premiers are shipped free and come with the industry's best 1 year warranty. Often imitated, never duplicated! BBO poker tables original designs and premium quality products is only offered through our website and our authorized dealers. Less reputable stores that sell "stuff" tend to copy our style, but never our quality. Be sure to compare warranties and reviews before you buy to avoid getting an inferior product.
Features:
94 x 44 x 30 Full size poker table for 10 players
Exclusive
conversion
dealer position for non-stop action
Hardwood legs and trim, mahogany gloss finish
Customizable playing surface
Premium foam, armrest, and playing surface upholstery
Ball and claw hand crafted Table legs
9 player positions with a conversion dealer spot
4in gold cup holders
Drop slot and bill cover included
Drop slot and bill cover included
Poker table 1
Dining top 1
Product Specifications
Manufactured By

BBO Poker Tables

Sold By

Width

96.0"

Depth

46.0"

Height

30.0"

Color

Upholstered with Black Velveteen

Materials

Other

Designer

BBO Poker Tables

Category

Style
Ready to ship to the Continental U.S. in 5 - 7 days.
Product Description
A poker table that matches your style!

Understated elegance and refined style best describes the setting at games around a Premier poker table. As players gather around with big dreams for the evening's game, the first thing they will notice is the conversion dealer spot that plays just like a regular seat when a full game starts, but transitions into a designated dealer spot as the night grow long and players begin falling off. The Premier features hardwood legs and trim, professional furniture grade soft vinyl, casino grade high density foam and playing surface fabric, and stunning brass 4in cup holders to complete the exclusive design. The Premier can be upgraded with a matching dining top, and matching chairs are available, please browse additional configurations.

Our Premiers have been upgraded with a new design pedestal legs and upgraded table surface materials. The Premier comes with our coffee color armrest, if you want to change the color, we can do that as well.

For players who want to make a statement without saying a word, we present the Premier. Designed to accommodate the upscale poker night, the Premier was designed exclusively by BBO poker tables for consumers that desire the best.

The first thing your guests will comment on is usually our "convertible dealer section", which has an isolated dealer position without the tray. In most home-games, there's rarely chip color ups during play, which renders an actual chip tray useless. Our convertible dealer section is actually a standard player position when the table is operating on full handed action. But as happens in most poker games, when players lose their stack, the table can be arranged so a busted player takes over the dealer position and commences dealing the rest of the evening for their buddies. We can only provide the dealer position, that guy you sucker into dealing for the remainder of the evening, that's up to you to find.

The Premier features a 7in ultra-wide, cup-holder (4in) mounted armrest which gives the table a superior stability when players are resting their arms. The playing surface features a 4in oak racetrack for stacking mountains, and the hand carved solid oak pedestals give the table a worthy base.

The Premier also comes with a pre-mounted drop box and bill slot, in the event you need to take a rake, or even just to keep the "monopoly" money safe during the game.

The Premier is optimized for exclusive home games, and is a BBO poker tables best seller!

All Premiers are shipped free and come with the industry's best 1 year warranty. Often imitated, never duplicated! BBO poker tables original designs and premium quality products is only offered through our website and our authorized dealers. Less reputable stores that sell "stuff" tend to copy our style, but never our quality. Be sure to compare warranties and reviews before you buy to avoid getting an inferior product.

Features:
94 x 44 x 30 Full size poker table for 10 players
Exclusive conversion dealer position for non-stop action
Hardwood legs and trim, mahogany gloss finish
Customizable playing surface
Premium foam, armrest, and playing surface upholstery
Ball and claw hand crafted Table legs
9 player positions with a conversion dealer spot
4in gold cup holders
Drop slot and bill cover included
Drop slot and bill cover included


Poker table 1
Dining top 1
Need more info? Ask a question