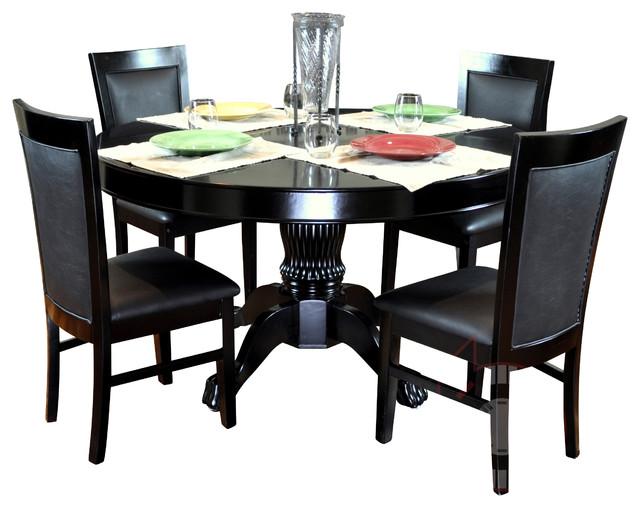 BBO Poker The Nighthawk Round Poker Table Set BLK-SS
Quantity:
Sold Out
Free Shipping!
Only 0 Left!
Like a well tailored suit, the Nighthawk poker table from BBO poker tables just fits. It fits as the battle field for hard fought hands, and it fits as a stylish piece of decor. The Nighthawk is a 8 player
round card table
finished in a black gloss with a matching removable round dining top. Measuring in at 55in wide, the Nighthawk has a built in chip tray for all players, as well as eight, 4in brushed steel cup holders that can accommodate wine and whiskey glasses. The table features hardwood legs and accents, and features casino grade foam and upholstery.
Redesigned for 2012! The Nighthawk poker table has been updated with our newly designed column pedestal leg and upgraded table surface materials. It was great before, now it's just ridiculous.
What do you do when an impromptu poker game breaks out? We'll, if you have a Nighthawk you would just take off the
dining top
and start calling bluffs! One of our best selling tables, the Nighthawk is a versatile eight player poker table that does not take up too much of your space.
The Nighthawk has a built in chip rack racetrack for each player and sits on a solid oak pedestal. The table has a removable playing surface which allows easy playing surface changes whenever you feel like looking at something new. The premium black gloss finish is scratch resistant, and matching dining top and chairs allow a inconspicuous dining configuration when not in use.
The armrest, as with all BBO poker tables armrests, is wrapped with premium sponge and furniture grade leather vinyl and is resistant to scratches and rips.
So let us ask you again, will you be ready when an impromptu poker game breaks out?
All Nighthawks come with our industry's best 1 year warranty and
free shipping
!
Features:
Dimensions: 55in x 55in x 30in design (58in x 58in x 30in with dining top)
Hardwood construction
, black piano gloss finish
4in brushed steel cup holders and premium upholstery
Built-in chip rail for every player position
Customizable playing surface
Matching solid wood removable dining top
Ball and claw hand crafted table leg
Premium leather vinyl armrest with 2 cm high density foam
Piano black
gloss finish
Piano black gloss finish
Poker table 1
Dining top 1
Dining chairs 4
Product Specifications
Manufactured By

BBO Poker Tables

Sold By

Width

57.0"

Depth

57.0"

Height

30.0"

Color

Black Suited Speed Cloth

Materials

Other

Designer

BBO Poker Tables

Category

Style
Ready to ship to the Continental U.S. and Canada in 5 - 7 days.
Product Description
Like a well tailored suit, the Nighthawk poker table from BBO poker tables just fits. It fits as the battle field for hard fought hands, and it fits as a stylish piece of decor. The Nighthawk is a 8 player round card table finished in a black gloss with a matching removable round dining top. Measuring in at 55in wide, the Nighthawk has a built in chip tray for all players, as well as eight, 4in brushed steel cup holders that can accommodate wine and whiskey glasses. The table features hardwood legs and accents, and features casino grade foam and upholstery.

Redesigned for 2012! The Nighthawk poker table has been updated with our newly designed column pedestal leg and upgraded table surface materials. It was great before, now it's just ridiculous.

What do you do when an impromptu poker game breaks out? We'll, if you have a Nighthawk you would just take off the dining top and start calling bluffs! One of our best selling tables, the Nighthawk is a versatile eight player poker table that does not take up too much of your space.

The Nighthawk has a built in chip rack racetrack for each player and sits on a solid oak pedestal. The table has a removable playing surface which allows easy playing surface changes whenever you feel like looking at something new. The premium black gloss finish is scratch resistant, and matching dining top and chairs allow a inconspicuous dining configuration when not in use.

The armrest, as with all BBO poker tables armrests, is wrapped with premium sponge and furniture grade leather vinyl and is resistant to scratches and rips.

So let us ask you again, will you be ready when an impromptu poker game breaks out?

All Nighthawks come with our industry's best 1 year warranty and free shipping!

Features:
Dimensions: 55in x 55in x 30in design (58in x 58in x 30in with dining top)
Hardwood construction, black piano gloss finish
4in brushed steel cup holders and premium upholstery
Built-in chip rail for every player position
Customizable playing surface
Matching solid wood removable dining top
Ball and claw hand crafted table leg
Premium leather vinyl armrest with 2 cm high density foam
Piano black gloss finish
Piano black gloss finish


Poker table 1
Dining top 1
Dining chairs 4
Need more info? Ask a question