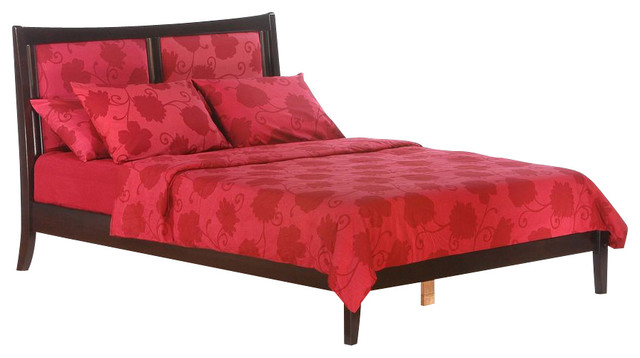 Night and Day Chameleon Platform Bed - No Underbed Drawers
Quantity:
Sold Out
Free Shipping!
Only 0 Left!
We've named it our Chamomile Bed and, like its herbal tea namesake, it is designed to quiet the spirit and bring some calming peace into your day... :-) Hmm, okay, so maybe we're overselling it a bit. But it's still a really sweet little bed. The Chamomile gives you the option to create a custom
headboard
design. Add Storage drawers and Folding Footboard Bench for enhanced utility and charm. Our convenient and sturdy Folding Footboard Bench attaches to the foot of all Spices collection beds.
Create A Custom Headboard Panel
The Chameleon's upholstered panels are removable and are designed to allow Easy Recovering with the Fabric of Your Choice. Create a bit of harmony between the bedding and the bed.
Have we got something really, really different for you. Our Folding Footboard Bench is so cute I'd forgive you if you forget just looking at it how useful it is - so let me tell you.
For starters, the Folding Footboard Bench is out of your way when it's not needed. When you want it, it is up and working in an instant. It's a dressing bench to lay your clothes on. It is a trunk top which you can pull your bedding overflow onto. It's also a great place to sit when you don't want your spread all messed up -- kids! Keep extra pillows on it. Really, use it for just about anything. Haven't tried the TV and DVD player yet, but why not.
The Footboard Panel is a wonderful Night and Day Furniture innovation, and practically essential if you are using drawer storage underneath a bed. The panel gives the foot of your bed a clean and finished look, hiding the side of the drawers from view.
Features:
Traditional style
Available in cherry, dark chocolate, natural, medium oak and white finishes
Belongs to Spices collection
Available in Twin, Full, Queen, King
Headboard 1
Footboard 1
Rails 1
Slats 1
Product Specifications
Manufactured By

Night & Day Furniture

Sold By

Color

Natural

Size

Full

Materials

Wood

Designer

Night & Day Furniture

Category

Style
Ready to ship to the Continental U.S. and Canada in 1 - 3 days.
Product Description
We've named it our Chamomile Bed and, like its herbal tea namesake, it is designed to quiet the spirit and bring some calming peace into your day... :-) Hmm, okay, so maybe we're overselling it a bit. But it's still a really sweet little bed. The Chamomile gives you the option to create a custom headboard design. Add Storage drawers and Folding Footboard Bench for enhanced utility and charm. Our convenient and sturdy Folding Footboard Bench attaches to the foot of all Spices collection beds.

Create A Custom Headboard Panel
The Chameleon's upholstered panels are removable and are designed to allow Easy Recovering with the Fabric of Your Choice. Create a bit of harmony between the bedding and the bed.

Have we got something really, really different for you. Our Folding Footboard Bench is so cute I'd forgive you if you forget just looking at it how useful it is - so let me tell you.

For starters, the Folding Footboard Bench is out of your way when it's not needed. When you want it, it is up and working in an instant. It's a dressing bench to lay your clothes on. It is a trunk top which you can pull your bedding overflow onto. It's also a great place to sit when you don't want your spread all messed up -- kids! Keep extra pillows on it. Really, use it for just about anything. Haven't tried the TV and DVD player yet, but why not.

The Footboard Panel is a wonderful Night and Day Furniture innovation, and practically essential if you are using drawer storage underneath a bed. The panel gives the foot of your bed a clean and finished look, hiding the side of the drawers from view.

Features:
Traditional style
Available in cherry, dark chocolate, natural, medium oak and white finishes
Belongs to Spices collection
Available in Twin, Full, Queen, King


Headboard 1
Footboard 1
Rails 1
Slats 1
Need more info? Ask a question