TOC design
Architects & Designers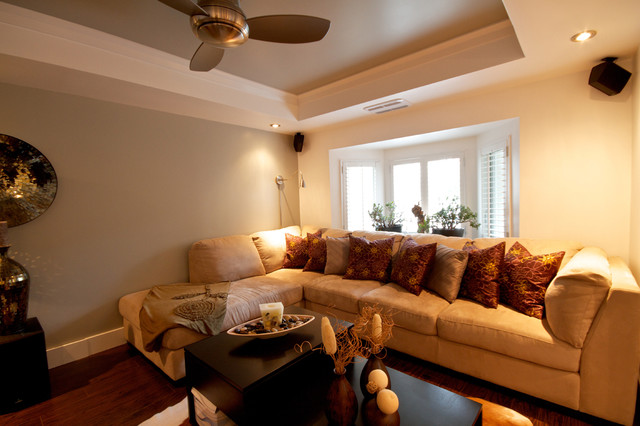 Cozy and Practical Living room
This newly re-located living space is tucked away within an enclosed area yet in a niche of its surrounding open space.
This was the perfect space to incorporate the living room especially for its surround sound acoustics, By creating a cove like ceiling with the perfect amount of lighting and the comfort of a modern fan, I was able to pass through all the necessary wiring required for the best possible sound, whether it be to listen to music or simple watching a favorite movie, - there is no more need to go to the cinema, when a space such as this comes with all the perfect amenities. The coffee table has multiple functions, with its deep storage and double tiered feature for decorative biblos, but it also functions with a raised panel mechanism to adjust the height for eating at a comfortable height. The authentic cow carpet is the perfect decorative piece to tie in all elements and at the same time absorbs sound beautifully. All the necessary electronic equipment is sealed inside a long and attractive low unit. I used cabinets from a big box store but had my millworker custom the top and was able to incorporate a
small fireplace
to enjoy the comfort and coziness during the long and cold winter months.
Products used:
Millwork cabinets:
Birch stained with an opaque black was used for the counter top of the TV entertainment unit to match the big box store cabinets , the coffee table was also made of the same material to balance and blend into the space.
Mike Prentice from Bluerock Cabinets
http://www.bluerockcabinets.com
Lighting
supplied by: Shortall Electric Ltd. of St. Laurent.
http://www.shortall.ca
Flooring:
Laminated Renaissance Hand scrapped color saddle oak is commercial-grade AC3 that can withstand the heavy
traffic flow
supplied by Taiga Forest Products of Boucherville.
http://www.taigabuilding.com
Window covering:
Custom
California shutters
Supplied by: Store Deco of St. Laurent
http://www.storedeco.com
What Houzzers are commenting on: