Bud Dietrich, AIA
Architects & Building Designers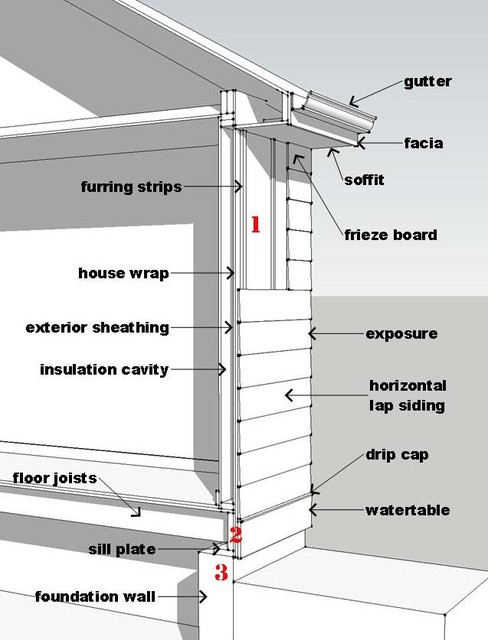 Rain screen
What Houzz contributors are saying:

Anatomy of a rain screen wall. This sketch identifies the parts of an exterior wall that are designed to incorporate a rain screen. There are three areas of focus:1. The gap between siding and the structural wall provides the space for air movement and moisture dissipation. This space can be easily constructed by installing the siding on furring strips, as shown. Of course, there are other methods to secure the finish siding materials to the structure. In fact, some manufacturers, such as James Hardie, have a system of channels that can be used. What's right for you depends on your style and your budget.2. The bottom of the air space can't be left open. Several manufacturers have products that are specifically designed to be used at this spot. Most are essentially screen-type elements that allow air movement while preventing insects from getting into the air space.3. More often than not, the landscaping (mulch, plantings and so on) is brought tight against the underside and may even bury the first few inches of the wall and siding. This will result in the wall's absorbing ground moisture, which can lead to insect infestations, mold growth and a whole host of bad things. So make sure to keep the finished landscaping at least 6 inches below the wood and siding.

Rain screens. Better materials and practices, including tighter envelopes, have made our homes easier to heat and cool and much more efficient. Gone are the days of drafty windows and doors, sky-high energy bills and uncomfortable rooms. But of course there's a side effect to having a home that doesn't leak energy out of every crack and gap. Moisture buildup in our walls and a lack of fresh air coming into the home can create poor air quality. See how the downsides can be mitigated when building a more efficient home.

A water table is also a feature of wood construction and wood-sided homes. The water table for those is a tall trim element that is capped with a drip edge or something else that directs water away from the foundation.
What Houzzers are commenting on: