Dynamic Garage Door
Garage Doors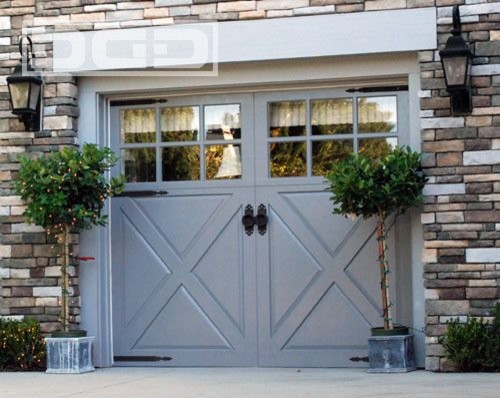 Custom Garage Doors, Garden Gates & Shutters in a French Château Style
A French Château style home Marie Antoinette herself would have been envious of! This Newport Beach, CA residence is truly a Mini-Versailles! Dynamic Garage Door, as a company, was commissioned to custom design, handcraft and install garage doors, gates and shutters. All architectural elements were to follow the customer's detailed taste including the hand-forged custom hardware which we so gracefully put together to make this custom garage door,
garden gate
and shutter project happen. Located in an upscale track home community, the detailed upgrades on this home represent unique luxury and nothing to do with a run-of-the-mill track home. The custom window shutter design and paint color were carefully selected to harmonize with the home's architecture and color scheme.
Custom Garage Doors - The custom garage doors were designed in traditional style typically known as the carriage house door, it is a traditional design that complements a variety of architectural styles including this French Château in the middle of Newport Beach, CA. These type of carriage house garage doors are often times intermingled with Cape Cod Architecture, Craftsman Bungalow Style, Coastal Cottages and even some modern day applications with very minimal design modifications to suit the project at hand. With our customization expertise, we can custom-design a unique carriage house garage door style that will simply add beauty, curve appeal and architectural taste to your custom or track home.
Custom Architectural Garden Gates - Garden gates are by far an architectural element that is highly overseen particularly in landscaping projects. This French Château owner hired an outstanding landscaping architect with a keen taste for luxurious French Gardens. When Dynamic Garage Door was commissioned to custom-design, handcraft and install the garden and courtyard gates of this home the details were precise, unyielding and very specific! Designing the garden gates for this home was a bit of a challenge but thanks to our design taste, skilled craftsmanship and technical knowledge we were able to craft custom garden gates that were as gorgeous as the landscaping elements selected by the
landscape
architect.
Custom Architectural Shutters - Without a doubt, window shutters are a must in certain architectural style such as this Newport Beach, CA
French Style
Château. Selecting the right hand-forged hardware is certainly of essence to make the minimalistic raised-panel shutters style. Selecting the right colors to make them pop against the soft gray-painted walls and other variations of gray made these shutters an addition that spelled, success! The homeowner was extremely happy, the landscape architect ecstatic and Dynamic Garage Door - simply proud!
Browse through this short gallery and see the elements that made a difference on this French Château. See why Dynamic Garage Door is highly revered for crafting some of the nation's most astounding custom garage doors, garden & driveway gates as well as architectural window shutters that speak volumes to the discerning architectural eye!
This photo has 2 questions
What Houzzers are commenting on: