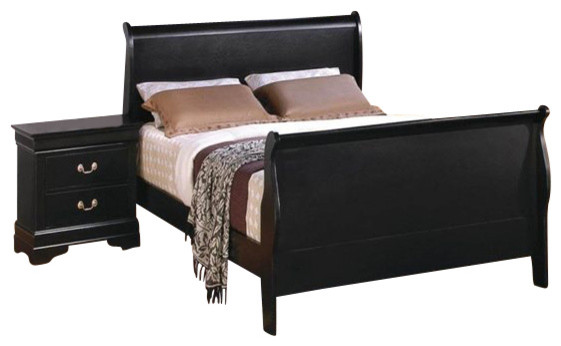 Coaster Louis Philippe 4 Piece Bedroom Set in Deep Black
Coaster - Bedroom Sets - 201071XPKG2 - Coaster Louis
Philippe
Sleigh Bed in Black Finish (included quantity: 1) Create the master suite of your dreams with this elegant sleigh bed. A curved headboard and footboard give this sleigh bed a distinctive traditional feel, while clean lines and simple style lend a relaxed casual look. This bed is available in twin, full, queen, king, and California king sizes. Features:
*Made of wood veneers and solids
*Deep Black finish
*Available in Twin, Full, Queen, King and California King sizes
*Traditional style
Specifications:
*Twin Dimensions: 47"H x 41" W x 85.5" D
*Full Dimensions: 47" H x 56" W x 85.5" D
*Queen Dimensions: 47" H x 63" W x 90" D
*King Dimensions: 47" H x 79" W x 93" D
*California King Dimensions: 47" H x 75" W x 97" D
Coaster Louis Philippe Nightstand in Black (included quantity: 1) Complement your bedroom with this traditional styled Louis Philippe
bedroom item
from Coaster Furniture
Features:
Deep Black FinishMaterial: Solids, VeneersFeatures two storage drawers for your bedside itemsDrawers feature wood glides and antique silver metal hardwareEnglish dove tail drawer construction and decorative molding trim
Specifications:
Dimension: 26"L x 16"W x 27"HItem Weight: 46.2 pounds
Coaster Louis Philippe Dresser Mirror in Deep Black (included quantity: 1) Instantly brighten your room, making it appear larger with this light reflecting mirror. The perfect companion to the six drawer dresser, this vertical dresser mirror gives you place to get ready in the morning.
Features:
Wood veneers and solids constructionDeep Black finishSilver metal hardwareTraditional style
Coaster Louis Philippe 6 Drawer
Dresser in
Deep Black Finish (included quantity: 1) Give yourself beautiful bedroom storage with this six drawer dresser. Six drawers provide ample space to store all of your clothing, bedding and linens. The top drawers are lined in felt, making them perfect for storing jewelry and other valuables. The relaxed traditional style is highlighted by bail handle hardware, bracket legs and thick molding. Pair this dresser with the dresser mirror to create a complete bedroom storage solution.
Features:
Black FinishConstructed from select hardwood solids and veneers.Traditional styleCherry finish features brass
metal hardware
, black finish features silver metal hardwareFelt-lined top drawers provide great storage for jewelry and valuables. English dovetail drawers for strength and durability.Six Drawer with Top Drawers Felt LinedMetal on Metal drawer guides
Specifications:
Overall product dimensions: 36"H x 60"W x 18"D
Product Specifications
Manufactured By

Coaster

Sold By

Category

Style
Ready to ship to the Continental U.S. in 7 - 9 days.
Product Description
Coaster - Bedroom Sets - 201071XPKG2 - Coaster Louis Philippe Sleigh Bed in Black Finish (included quantity: 1) Create the master suite of your dreams with this elegant sleigh bed. A curved headboard and footboard give this sleigh bed a distinctive traditional feel, while clean lines and simple style lend a relaxed casual look. This bed is available in twin, full, queen, king, and California king sizes. Features:
*Made of wood veneers and solids

*Deep Black finish
*Available in Twin, Full, Queen, King and California King sizes
*Traditional style

Specifications:

*Twin Dimensions: 47"H x 41" W x 85.5" D
*Full Dimensions: 47" H x 56" W x 85.5" D
*Queen Dimensions: 47" H x 63" W x 90" D
*King Dimensions: 47" H x 79" W x 93" D
*California King Dimensions: 47" H x 75" W x 97" D

Coaster Louis Philippe Nightstand in Black (included quantity: 1) Complement your bedroom with this traditional styled Louis Philippe bedroom item from Coaster Furniture
Features:
Deep Black FinishMaterial: Solids, VeneersFeatures two storage drawers for your bedside itemsDrawers feature wood glides and antique silver metal hardwareEnglish dove tail drawer construction and decorative molding trim

Specifications:
Dimension: 26"L x 16"W x 27"HItem Weight: 46.2 pounds

Coaster Louis Philippe Dresser Mirror in Deep Black (included quantity: 1) Instantly brighten your room, making it appear larger with this light reflecting mirror. The perfect companion to the six drawer dresser, this vertical dresser mirror gives you place to get ready in the morning.
Features:
Wood veneers and solids constructionDeep Black finishSilver metal hardwareTraditional style

Coaster Louis Philippe 6 Drawer Dresser in Deep Black Finish (included quantity: 1) Give yourself beautiful bedroom storage with this six drawer dresser. Six drawers provide ample space to store all of your clothing, bedding and linens. The top drawers are lined in felt, making them perfect for storing jewelry and other valuables. The relaxed traditional style is highlighted by bail handle hardware, bracket legs and thick molding. Pair this dresser with the dresser mirror to create a complete bedroom storage solution.
Features:
Black FinishConstructed from select hardwood solids and veneers.Traditional styleCherry finish features brass metal hardware, black finish features silver metal hardwareFelt-lined top drawers provide great storage for jewelry and valuables. English dovetail drawers for strength and durability.Six Drawer with Top Drawers Felt LinedMetal on Metal drawer guides

Specifications:
Overall product dimensions: 36"H x 60"W x 18"D
Need more info? Ask a question