Andrew Keys
Landscape Architects & Landscape Designers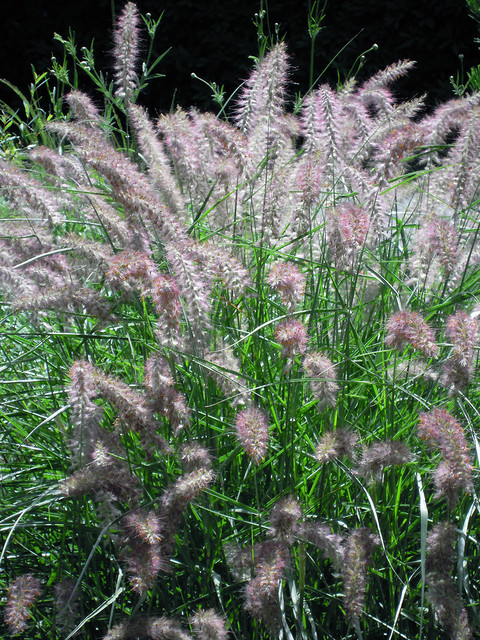 'Karley Rose' fountain grass (Pennisetum orientale 'Karley Rose')
'Karley Rose' fountain grass (Pennisetum orientale 'Karley Rose'). Photo: Andrew Keys
What Houzz contributors are saying:

Last but certainly not least is a grass that deserves way more attention: 'Karley Rose' fountain grass (Pennisetum orientale 'Karley Rose,' zones [5] 6 to 8). There aren't many grasses I don't love, but this may be my favorite. 'Karley' gets bigger and beefier than your average fountain grass — about 3 feet tall and 4 feet wide. It blooms in fuzzy pink early in the season, with flowers that fade to a more buff pink. Best of all, it reblooms throughout the season, so it's an all-summer stunner. 'Karley Rose' needs full sun and dry soil to thrive, and good drainage is essential in the northern reaches of its range.More:
Ornamental Grasses
in the LandscapeGreat Plant: New Zealand Wind Grass

Allow Natural Movement The kings of movers in the garden are, of course, the grasses. In a
small garden
, these bring the space to life. Swaying with the slightest air current, grasses take away the sterility of urban and suburban life.I find the fountain grasses (Pennisetum orientale 'Karley Rose' is shown here) to be some of the best movers and groovers, with their fluffy flower heads dancing in the breeze. Planted in clumps, they contrast brilliantly against the bulky shapes of clipped evergreens.

Fountain Grasses(Pennisetum spp)The fuzzy flower plumes of the fountain grasses are a graceful addition to the garden. You'll find these grasses in a range of heights, colors and cold tolerances, so there is usually something for every garden spot.Where it will grow: Zones 5 to 10Light: Full sun or partial shadeWater: Little to regular, depending on the speciesThese can become invasive, so check with local nurseries about which do well in your climate and don't self-sow too readily. In addition to using them to fill in garden beds, cut the stems early to include them in flower arrangements.
What Houzzers are commenting on: