Harper Design from HarperCollins Publishers
Media and Bloggers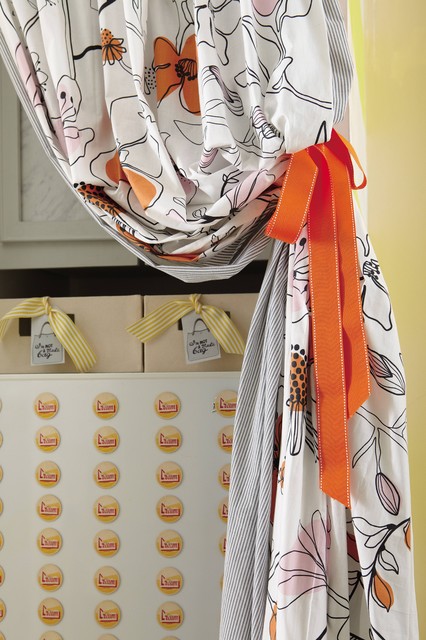 Living in a Nutshell by Janet Lee
LIVING IN A NUTSHELL
Posh and Portable Decorating
Ideas for Small Spaces
By Janet Lee Photography by Aimée Herring
Harper Design, An Imprint of HarperCollinsPublishers
What Houzz contributors are saying:

DIY secret: Hide that eyesore. No matter how perfect your apartment seems, there's always the inevitable unsightly feature — it's like a law of nature. Instead of awkwardly sidestepping guests around your refrigerator or sink, come up with a clever way to conceal it. This apartment had a refrigerator in the foyer. A collection of cute magnets and a graphic curtain quickly transformed it into an eye-pleasing addition to the apartment. Living in a Nutshell: Posh and Portable
Decorating Ideas for Small Spaces
, by Janet Lee. Photography by Aimée Herring. Harper Design, An Imprint of HarperCollinsPublishers. Hardcover: $25.More Books to Know:DecorateThe Happy Home ProjectSalvage Secrets

Velvet ribbon makes for elegant, impromptu curtain ties. You could use any material or color that appeals to you, from metal chain for an industrial space to torn strips of fabric if you want a more rustic effect.
What Houzzers are commenting on: