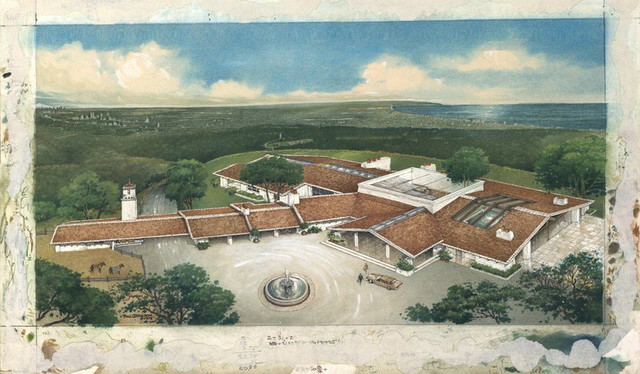 Cliff May, Cliff May, Gerald Katell house
Cliff May, Cliff May, Gerald Katell house (Rolling Hills, Calif.):
bird's eye perspective of preliminary design, 1978
Rendering by Jamison
watercolor on board: 22 3/4 x 35 in.
(Cliff May Papers)
What Houzz contributors are saying:

EXHIBIT — April 12–June 17, 2012Carefree California: Cliff May and the Romance of the RanchArt, Design & Architecture Museum, University of California, Santa Barbara, CaliforniaCelebrate the rise of the modern ranch house and casual California living in the latest Cliff May exhibition. Through a collection of drawings, models, magazine ads, sales pamphlets and film clips, the exhibit brings to life May's transformation of Spanish colonial adobes into open-plan, glass-walled ranches that integrate house with garden. The exhibit also focuses on wartime industry and the growth of California, and features work by other contemporary architects from the same time period.This exhibit is part of Pacific Standard Time, a collaboration of cultural institutions.Cost: FreeHours: Tuesday–Sunday, noon–5 p.m.

From small and affordable to large, sprawling and custom, both ends of the architectural spectrum were handled deftly by May. His ability to respond to the site and create a home both comfortable and livable, whether modest or lavish, is what makes his work relevant for us today.More on Carefree California: Cliff May and the Romance of the Ranch House

Home design took on a new form as a result of a car-dominated culture that celebrated the freedom of the open road. Relaxed, casual, spread out across the landscape, the new ranch-style home gave expression to the expansiveness of our spirit. And as the desire to be rooted in a place gave way to increasing mobility, the vertical totem no longer appeared.
What Houzzers are commenting on: