Marie Grabo Designs
Interior Designers & Decorators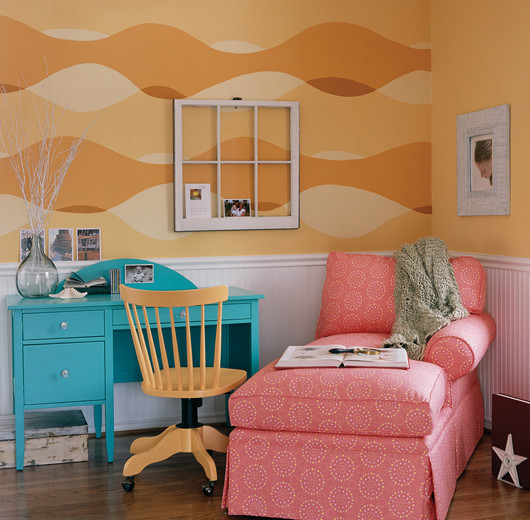 » Blog Archive » For Coastal Cottage Color Lovers!
¨ Navigation: Weblog / Blog article: For Coastal Cottage Color Lovers! For Coastal Cottage Color Lovers! Have you heard of Russell & Mackenna ? Well it is a company specializing in beach cottage style furniture. Unlike most furniture companies, you get to design the furniture to fit perfectly into your home! You can choose between 33 vibrant colors and add the trim and knobs you want. For upholstered furniture there are 53 beautiful fabrics to choose from. Needless to say, this is fun! Lets check out some of their colorful furniture: * Bright turquoise walls with beige and yellow. This surf chic living room is all about happy colors. * Now this is a cute dining area! The beige, turquoise and yellow work perfectly together. * This must be the most crazy color combo yet. I feel like a cartoon character just by looking at it! I would think any weather would be gray when you walk out of this entryway. * This lavender blue, turquoise and green nursery is the cutest! The wave detail on the crib is my favorite part. * More waves in this bedroom. I see 6 fishes. * Orange and pink is one of my favorite color combos. Perfect for a little girls room. * To make it even more fun, Russell & Mackenna is offering you, my wonderful readers, 40 % off of all furniture in their online store! The sales code is LYK34KXX . * These colorful rooms really reminded me of Jane Coslick 's design style, check out her site for some more inspiration! Activate the Wp-related-posts plugin to see the related post list! 2 Responses to "For Coastal Cottage Color Lovers!" Dayka says: January 20, 2010 at 6:41 am Wow, 40% off is ridiculous! Margaux says: January 21, 2010 at 6:16 pm This post is the best. I love bright colors. I also love the turquoise table with yellow chairs. Leave a Reply Name Mail (will not be published) Website Sponsors HGTV Green
Home 2008
Posted by theLennoxx Art of the Day: Woody Shepherd Posted by theLennoxx Beige and White: Coastal Style Posted by theLennoxx VIDEO TAG CLOU
This photo has one question
What Houzz contributors are saying:

I also love this slightly organic-looking
wave pattern
. As for color, it looks as if the designer picked a paint chip and just when down the line, from darkest to lightest — a great way to ensure that tones and hues work together.
What Houzzers are commenting on: