Axis Mundi
Architects & Designers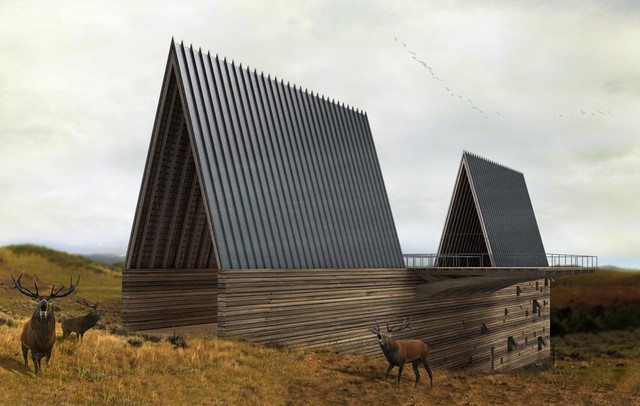 Ark House
Madison Valley, Montana | This project is situated on a sloping windswept bluff overlooking Beaver Head National Forest with extraordinary views of Big Sky Mountain. The overall design is a long barn-like structure bisected across the center by an enormous cantilevered observation deck of nearly 4800 sq. ft.

Half of the main form is an open shell which serves as an entrance pavilion. It contains only a staircase leading up to the observation deck. From the deck, one can enter the main house in the other half. There is an alternate, sheltered path under the deck, opening behind the staircase. Fabricated from Corten steel and glass, a 60-foot bridge spans a 3-story atrium space below.

Top Down Plan
On the uppermost level of the house is the main living space which includes kitchen, dining and living areas. All of the floors have breath-taking mountain views at one end and look in to the atrium at the other. The atrium walls are lined with a Corten steel trellis. A lily pond resides at the base.

Design Team: John Beckmann, Ronald Dapsis, Masaru Ogasawara and Natacha Mankowski
Renderings: Ronald Dapsis and Masaru Ogasawara
Total Area: 10,200 sq. ft. including 4,800 sq. ft. observation deck.
Materials: Reclaimed oak siding and beams, Corten steel, glass, photovoltaic standing seam roof, CMU, steel sub-structure.

© 2010 Axis Mundi Design LLC
What Houzz contributors are saying:

Axis Mundi's Ark House is a design for the open plains of Big Sky Country in Montana. The animals found in this and the following rendering may give the impression that the wood and steel structure is a modern-day Noah's ark, but inside the wood base is a three-story house. Here we see the entrance pavilion, which leads to a large observation deck; below it is a bridge that provides access to the house at the far end.

FeesBuried in the process of drafting your contract is the weighty decision of how you'll approach charging for your services. Heading into your interview with the client, you'll have a basic idea of how you want to structure this, but it will be codified in your contract. There are many different methods of charging for services rendered, but let's look at a few of the most common ones:Stipulated sum (fixed fee): A negotiated fee that includes your direct personnel expenses (if you don't have employees, that's you), your consultant's fees, an overhead expense (your cost of doing business not directly attributable to the project) and your profit (not reimbursable expenses, which we'll talk about later). Your client will want this kind of an agreement. I can almost guarantee it. When everything is known about a project's scope, and when you have some experience, it can be feasible to determine the fee required to complete a project. But how often is everything for a project known up front? Just about never.
What Houzzers are commenting on: