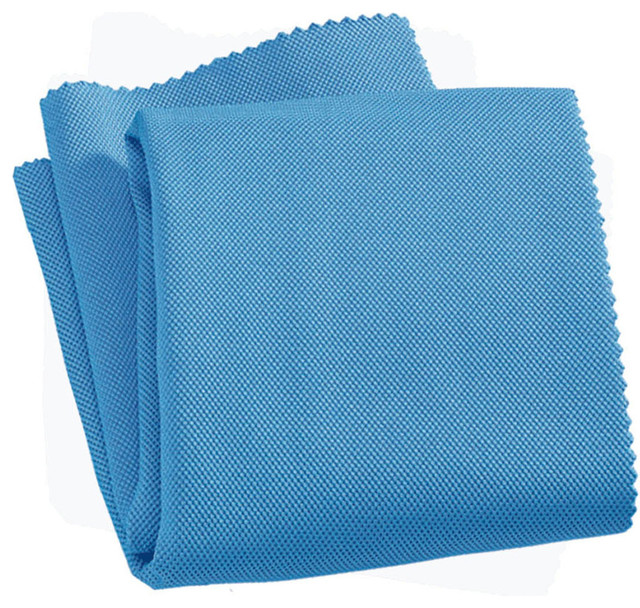 e-cloth Glass & Polishing Cloth
These unique little cloths help you see things crystal clear. Use them on your
windows
and mirrors for streak-free results. Each square inch contains 1.6 million fibers to effectively remove residue, oil and dirt. You can even use them on other hard surfaces such as stainless steel, chrome, granite and marble.
Product Specifications
Manufactured By

e-cloth

Sold By

Designer

e-cloth

Category
Ready to ship to the Continental U.S. in 2 - 7 days.
Product Description
Sparkling windows and mirrors help make a home feel fresh and clean, but unfortunately, many of the products used to achieve that beautiful clean look contain harsh chemicals like ammonia. If you're looking to reduce the number of chemicals that you use in your home or have a family member that is allergic to the common ingredients in glass cleaners, you need to discover the e-Cloth Glass & Polishing Cloth.
This cloth is perfect for getting your windows streak-free and spotless with just ordinary water. The cloth is able to produce these amazing effects because of its unique design. Each square inch of the cloth features 1.6 million fibers, which are 1/200th of the width of a human hair. The tiny fibers are better able to remove the residue, oil and dirt that cause windows and mirrors to look foggy and smeared.
The e-Cloth Glass & Polishing Cloth is 20 inches by 16 inches in size, making it perfect for window cleaning. For best results, use the cloth along with the e-Cloth Water Atomizer.

- Includes one (1) 20"x16" glass & polishing cloth
- Provides true Chemical Free Cleaning removing dirt, grease, grime and over 99% of bacteria from a hard surface using just water
- 1.6 Million fibers per inch versus 90,000 to 200,000 on other "high quality" microfibers
- Provides a lint-free, streak-free, smear-free finish to windows, mirrors, and fixtures throughout the home
- Removes light grease, grime, and finger marks and adds a final polishing touch to most hard surfaces
- Use dry on water dampened surface brings a perfect smear-free finish to windows, mirrors, stainless steel, chrome, granite, marble and all other shiny surfaces
Need more info? Ask a question