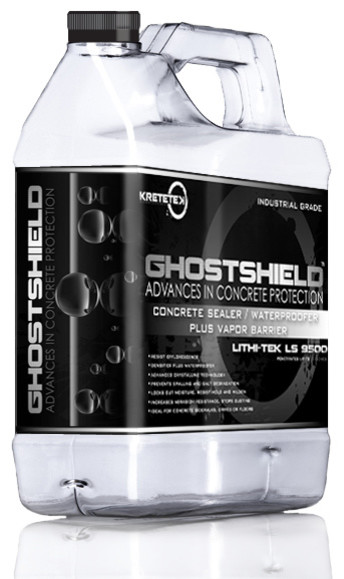 This photo has 5 questions
What Houzzers are commenting on:
Concrete Sealer GHOSTSHIELD Lithi-Tek LS 9500
Lithi-Tek LS 9500 is an industrial strength deep penetrating concrete sealer, waterproofer, densifier and vapor barrier. Our unique formula penetrates up to 4 inches and the subsequent chemical reaction elicited from our formula fills the pores, capillaries and microcracks with an impenetrable crystallization. The secret to effectively sealing and densifing with Lithi-Tek LS 9500 is to have our sealer react with as much of the free lime and calcium present within the concrete as possible. Lithi-Tek LS 9500 contains a proprietary blend of enzymes and surfactants, which act as an accelerator to promote deep penetration of the material.
FORMULA: Industrial grade concentrated lithium silicate + siliconate blend
RECOMMENDED APPLICATIONS:
Basement
floors
and foundation walls
Driveways and parking lots
Garages and warehouses
Industrial facilities
Slabs, walls and concrete roof structures
Vertical and horizontal, interior and exterior, new and old concrete surfaces
UNSURPASSED ADVANTAGES:
Stops water and moisture intrusion
Becomes an integral part of the concrete, forming a complete body of strength and durability with 100% of the results occurring below the surface.
Penetrates deeply and seals concretes capillary tracts and shrinkage cracks preventing the growth of mold and mildew and the spread of radon.
Completely effective against high hydrostatic pressure.
Completely effective against the spread of vapor transmission.
Increases concretes compressive strength
Increases concretes adhesion of paints, epoxies and surface sealers
Combats Alkali Silica Reaction (ASR).
Efflorescence attacks are stopped.
4-6 of penetration is achieved.
1 gallon covers 1250 square feet.
Seals hairline and shrinkage cracks rather than merely masking or bridging them.
Resists chemical attack and provides a range of protection from freeze/thaw cycles, aggressive subsoil waters, seawater, carbonates, chlorides, sulfates and nitrates.
Waterproofing and chemical-resistance properties remain intact even if the surface is damaged.
Dries clear. The color and look of the concrete will not change after sealing resulting in 100% transparent and non-slip surfaces.
Easy to apply
, labor-cost effective.
Nontoxic
, Low VOCs and no harmful fumes.
TECHNICAL
INFORMATION:
Color: Clear
Finish: Natural
Coverage: 1250 sq.ft per gallon
Shelf Life: 1 year
VOCs: 0 g/L
Product Specifications
Manufactured By

KRETETEK Industries

Sold By

Width

8"

Depth

4"

Height

11"

Category

Style
Ready to ship to the Continental U.S. in 1 - 2 days.
Product Description
Lithi-Tek LS 9500 is an industrial strength deep penetrating concrete sealer, waterproofer, densifier and vapor barrier. Our unique formula penetrates up to 4 inches and the subsequent chemical reaction elicited from our formula fills the pores, capillaries and microcracks with an impenetrable crystallization. The secret to effectively sealing and densifing with Lithi-Tek LS 9500 is to have our sealer react with as much of the free lime and calcium present within the concrete as possible. Lithi-Tek LS 9500 contains a proprietary blend of enzymes and surfactants, which act as an accelerator to promote deep penetration of the material.

FORMULA: Industrial grade concentrated lithium silicate + siliconate blend

RECOMMENDED APPLICATIONS:

Basement floors and foundation walls
Driveways and parking lots
Garages and warehouses
Industrial facilities
Slabs, walls and concrete roof structures
Vertical and horizontal, interior and exterior, new and old concrete surfaces

UNSURPASSED ADVANTAGES:

Stops water and moisture intrusion
Becomes an integral part of the concrete, forming a complete body of strength and durability with 100% of the results occurring below the surface.
Penetrates deeply and seals concretes capillary tracts and shrinkage cracks preventing the growth of mold and mildew and the spread of radon.
Completely effective against high hydrostatic pressure.
Completely effective against the spread of vapor transmission.
Increases concretes compressive strength
Increases concretes adhesion of paints, epoxies and surface sealers
Combats Alkali Silica Reaction (ASR).
Efflorescence attacks are stopped.
4-6 of penetration is achieved.
1 gallon covers 1250 square feet.
Seals hairline and shrinkage cracks rather than merely masking or bridging them.
Resists chemical attack and provides a range of protection from freeze/thaw cycles, aggressive subsoil waters, seawater, carbonates, chlorides, sulfates and nitrates.
Waterproofing and chemical-resistance properties remain intact even if the surface is damaged.
Dries clear. The color and look of the concrete will not change after sealing resulting in 100% transparent and non-slip surfaces.
Easy to apply, labor-cost effective.
Nontoxic, Low VOCs and no harmful fumes.

TECHNICAL INFORMATION:

Color: Clear

Finish: Natural

Coverage: 1250 sq.ft per gallon

Shelf Life: 1 year

VOCs: 0 g/L
Need more info? Ask a question