Bali Construction
General Contractors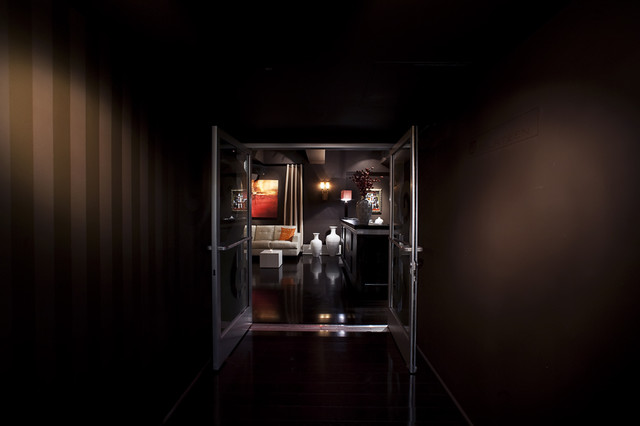 4Fourteen Nightclub
Four Fourteen is an addition to Ruby Skye, which was voted by Dance Star as one of the top 5 Night Clubs in the world. We took what used to be an old smoking room and formed it into its own nightclub. This 2500sq ft. rectangular space has an elegant and modern feel. We added custom plyboo hardwood and installed chocolate and espresso striped wallpaper on 2 of the connecting walls. The ceilings and adjacent walls are painted in
dark espresso
as well. Vertical striped espresso and cream panels hang from floor to ceiling, making this room look much larger then it is. We finished the interior with cream colored leather sectionals and white fiberglass tables. The lighting generates an intimate ambiance with traditional style sconces and a chic crystal chandelier.
We were having problems with noise complaints from the hotels and neighboring businesses; we had the room engineered to be completely sound proofed with quiet rock made by quiet solutions. The ceiling product is called tectum, which makes the space not only soundproof, but increases the sound quality of the club. There is a separate temperature controlled room to keep the state of the art sound system, by JK Sound from, overheating. The DJ booth was designed with the entertainers' inputs to create the most ergonomic equipment in the world. The bar is simple with dark espresso wood detail and
cream trim
. We also added a French decorative imprint to give it some depth.
URL

Location

San Francisco