Junaid Farooq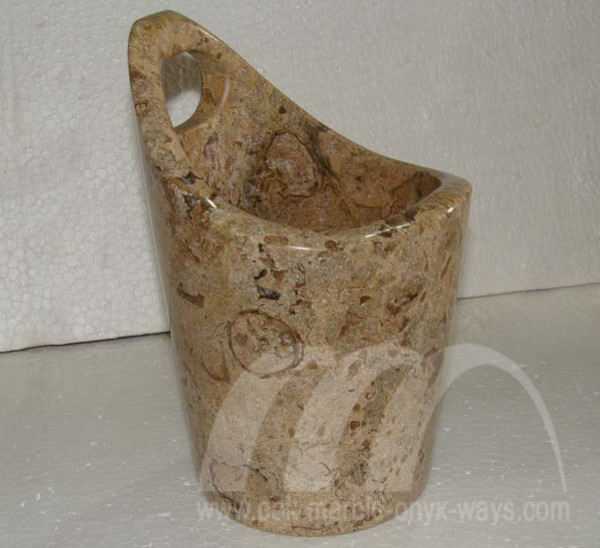 Wine Coolers
Manufacturer of Wine Coolers, Wine Ice Buckets, Our range of construction related products includes;
Tiles, Mosaic Tiles, Split Face Tiles, Blocks, Boulders, Slabs, Countertops, Stair Steps, Stair Treads, Fireplaces, Fountains, Floor Borders, Moldings, Medallions and Motifs, Columns, Pillars, Balustrades, Railing, Window Surrounds, Kitchen Counters, Reception Counters, Ball Room Counters, Bathroom Counters, Bathroom Vanities, Table Tops, Corner Shelf's, Knobs and Pulls, Planters, Dustbins, Tissue Boxes, Tissue Holders, Soap Dispensers, Soap Dishes, Mirror Borders.
Our specially hand carved handicrafts for display and multi purpose use are as follows;
Pedestals, Vases, Urns, Chess Sets, Candle Lamps, Lamps, Ashtrays, Cigar Boxes, Cigarette Boxes, Jewelry Boxes, Trophies, Table Clocks, Shelf Display Items, Photo Frames, Office Table Accessories, Balls, Spheres, Paper Weight, Pyramids, Cubes, Dice, Key Chains, Heart Shape/Diamond/Octagon Paper Weight, Obelisks, Eggs, Animals, Horse, Eagle, Crocodile, Bull, Fairy, Turtle, Loin, Birds, Fish, Dolphins, Tumbles, Fruits, Apple, Pears, Grapes, Tissue Boxes, Bookends.
Kitchen crockery and popular daily use products:
Mortar and Pestles, Bowls, Soup Bowls Sets, Salad Bowls Set,
Salad Servers
, Plates, Casseroles, Wine Glasses, Wine Cups & Glasses, Wine Goblets, Short Glasses, Champagne Glasses, Ice Buckets, Wine Coolers, Beer Tanks, Fruit Trays/Dishes, Pepper Grinder, Salt Sets, Rolling Pins, Pastry Boards, Ice-cream Cups, Candy Jars, Mugs, Glasses, Coaster Sets, Tea Sets etc.