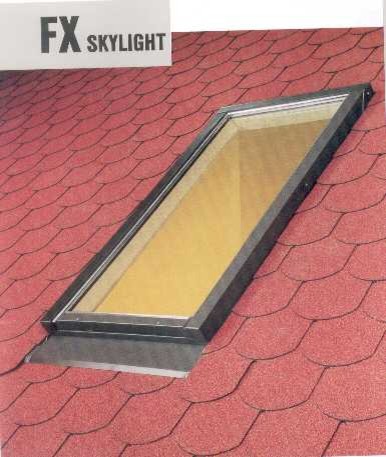 FX 24x27 Tempered Skylight
FX Fixed Skylight creates a great opportunity to bring natural light in from outside and provide great looks for any room in the house. FX skylight is specially designed to give the user trouble-free preformance for years. Full range of flashings allows to install the
skylights
with all roofing materials. Additional accessories combine both decorative appearance and functionality in everyday applications. It is a great solution for places with high ceillings, where any extra source of lighting is valuable, and where ventilation system is working properly
Outside Frame Dimension in inches: 24 1/2 x 27 1/2
Rough Opening in inches: 22 1/2 x 26 3/4
Daylight Area (Glass) in inches: 19 5/8 x 22 5/8
Daylight Area in square feet: 3,08
The FX Skylight have
technical
specifications: 0.42 (2.4) U-Factor (R-Factor)
SHGC: 0.52
Vt: 0.68
Glazing: 4H v 16 v 4T
Emission coating: +
Inert gass filled panes: +
Toughened glass: +
Varnishing: two times
Simple construction of FX skylights, guarantees hassle free use for long time, which is especially important, when the skylights are installed out of reach, and every additional maintenance work causes problems due to the access difficutlies.
The FX Fixed Skylight is made from pressure treated pine wood. Coated with water based clear acrylic lacquer (no extra painting required).
Quick and easy to install. New installation system. No
brackets
!
Installation template provided to enable accurate cutting of roof opening.
Suitable for roofs pitches between 15+ and 85+.
Set deeper in the roof or better insulation, and supplied with a perimeter seal, for "warmer" roof boarding-skylight frame joint.
Wider range of accessories specifically for skylights.
The FX Skylight is an easy to install product of simple design. It offers arange of features, the most important being the new, warm+ frame, low-E design glazing with a toughened outer pane and the simple but innovative method of installation. The combination of these factors enabled us to create the
energy saving
FX Skylight. The design minimizes the risk of condensation on cooler parts of the window.
FX skylights can be installed above and below, or adjacent to each other.
European designed & manufactured, this products was appointed by Professional
Builder
Magazine as a "PRODUCT OF THE YEAR"!
Product will be shipped within a week.
Product Specifications
Sold By

Category

Style